The Beaches of St Augustine. In a word – fabulous. Perfect soft sand, warm water, rolling waves and unprecedented access makes the beach scene in St Augustine amazing.
Parking? – Plenty
Walkovers? Everywhere
Drive on Beach? – Amazingly yes.
Miles and miles of uncrowded sandy beach? Yep.
So where do we start? Lets start with Beach Access.
Driving on St Augustine Beach
Yes you can drive on most of St Augustine Beaches. From March through September you will need a pass to drive on the beach. Costs are:
In-Season Annual Pass Fee – March 2 through September 30:

Sold at beach toll booths
County Resident – $40.00
Non-resident – $50.00
Handicapped – $30.00

Daily fees – March 1 through September 30:

Sold at beach toll booths
County Resident – $6.00
Non-Resident – $7.00
Pre-Season Sales
Preseason Annual Pass Sales November 27 through March 1:

Sold at Recreation and Parks Office, St. Johns County Tax Collector Offices
and the St. Johns County Pier
County Resident – $30.00
Non-resident – $40.00
Handicapped – $20.00
Driving Access Points
So where can  I drive on St Augustine Beach? Take a look at the image here for areas to drive on. And remember, during Sea Turtle Season your vehicle must be off the beach by 7:30 pm when they close the gates. Miss that and you will be locked in and facing a heavy fine to get out.
If you chose, you could drive for over 10 miles straight on the beach without having to exit. However, at a maximum beach speed limit of 10 mph, you might want to break that up.
For North Beaches, if you want to drive over the Usina Bridge to Vilano, you could drive to the Vilano Road Vehicle Access Point to get on the beach. Or if you have 4 wheel drive try the Porpoise Point Access point for a beautiful view of downtown across the bay and watch some dolphins frolic off Porpoise Point.

For Southern Beaches, you have a multitude of drive on points.
Access Point                                        Miles to Next Access Point
A Street                                                     1.6 miles
Ocean Trace                                              .4 miles
Dondanville                                             1.4 miles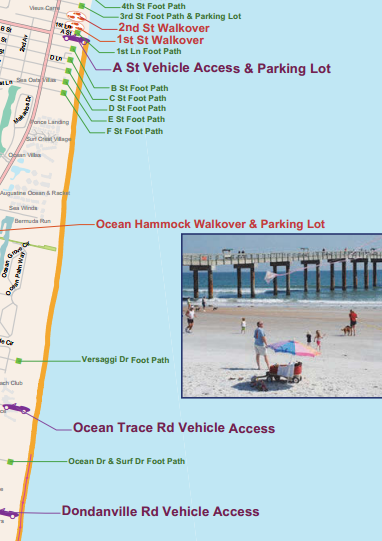 And further south of town
Matanzas Ave                                          .5 miles
Mary Street                                              1.3 miles
Crescent                                                     2.7 miles
Fort Matanzas                                          1.1 miles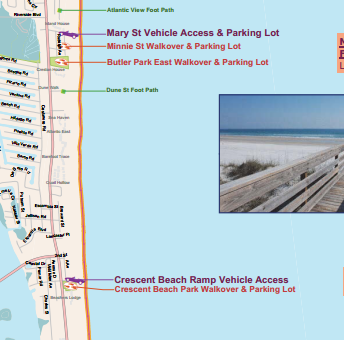 Click here  to open a full map from the county of all vehicle and walking access
Read our post on Driving on St Augustine Beach for more complete details and information
Beach Access Walking
St Augustine offers a tremendous amount of beach walkovers and parking lots for those that can not drive on the beach or prefer areas where no vehicle traffic will be (South of the Fishing Pier on A1A Beach Blvd to  A street for  example has no vehicular traffic.) See the image below for all walkovers and parking lots in the A1A Beach South Beaches area.
For further south in the Butler Beach area access points include: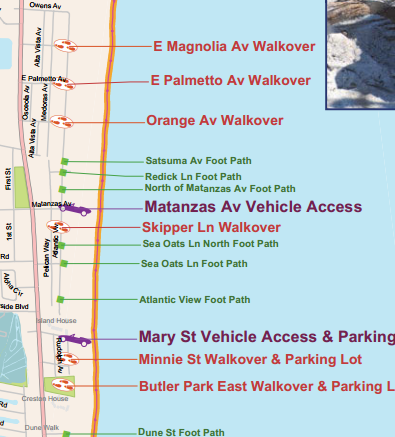 And finally Crescent Beach and Fort Matanzas both have parking lots and beach access. For a full list of all beach acces points, visit our Beach Access points page containing a table off all location and amenities.
North Beach Access
Vilano Beach, located a little over three miles  outside of the Historic district and a 10 minute drive, is a great spot to take advantage of the Salt Life here in St Augustine. See map below for parking an facilities in this area. The areas north of Vilano Beach on A1A tend to be quieter than other areas  but some require a walkover the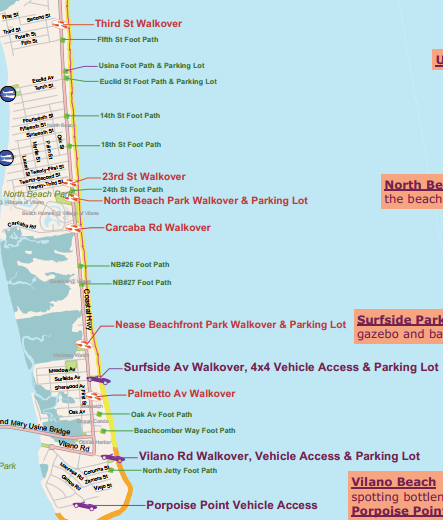 Saint Augustine Beach Water Temperature
So what is the water temperature at St Augustine Beach? The great news is that during the summer months, the water temperature will be in the 80's. Warm enough to stay in as long as you want, but cool enough to get relief from the Florida sun and humidity. And  obviously it depends on the time of year,  but here is a table of average ocean temperatures by month.
Jan   Feb   March   April   May   June   July   Aug   Sept   Oct   Nov Dec
57    56        64          73       76        81       83       83       81     76      67    60
For an exact temperature for any day, check out this website which will give you real time buoy data from the St Augustine pier for water temperature and a host of other sea and air conditions. Or this link to a buoy further out at sea if the data from the pier is not transmitting.
For current beach condition you can call the county at 904-209-0331
Beach Rules and Regulations
According to county regulations
no alcohol
no unleashed pets
no fireworks
no loud music (heard beyond 25 feet)
no soliciting
no motorized vehicles can be launched from beach
Sea Turtle Season on St Augustine Beaches
Sea Turtle Season begins May 1. Regulation that protect sea turtles  and the Anastasia Island Beach Mouse include  beach driving and lighting rules which are in effect May 1st to October 31st. Car  traffic on the beach is only allowed from 8:00 am to 7:30 pm. Also,  all beachfront properties are required to reduce the impact of interior and exterior lights which may impact nesting sea turtles. For more information on Sea Turtles, see this post.