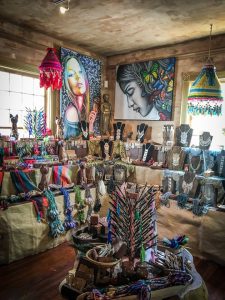 If you are looking for the perfect gift, souvenir or home décor item, look no further than the Golden Gypsy. This one of a kind shop has something special waiting just for you.
Walking into The Golden Gypsy, I felt enchanted and taken into a cultural and artistic experience that was different than many of the other shops around downtown St Augustine. As I walked through the door and smelled the exotic aroma of incense burning and heard the rhythms of world music playing, my eyes wandered around the boutique to see a wonderful array of colorful and unique items displayed throughout the shop.
I discovered that The Golden Gypsy team travels into Thailand, Turkey, Bali, Zimbabwe, Colombia and other countries to find local artisans in the deep jungles and villages. Most of the items are fair-trade and there is an exquisite gallery upstairs of beautiful artwork. I found myself gravitating to the Thai hand-loomed naturally-dyed scarves made with leaf bark and loved the tribal earrings I found that were made by an indigenous tribe in Colombia. There were adorable, flowing cotton and rayon gypsy pants created by retired rice farmers in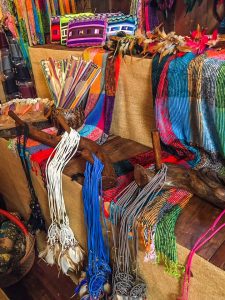 Thailand, as well as beautiful handmade African Batik pillows. I also found some great sales – they had re-purposed teak candle holders from Thailand that were buy one get one free.
The associate (or Art Guide as they are called) was friendly and knowledgeable and I noticed they even serve Kava – a traditional, ceremonial drink from the Pacific Islands. I felt a really good vibe as I toured the boutique and gallery, taking everything in.
I highly recommend this unique boutique experience in the heart of downtown St Augustine that transports you to another world.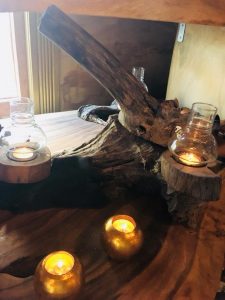 Address: 23 Cuna St, St. Augustine, FL 32084
Phone: (904) 417-0094