If you are visiting the beautiful town of St Augustine, you might want to take the opportunity to learn to surf by taking surf lessons or having your kids attend a surf camp. After all, you are in one of the most beautiful towns in America that has been voted as a Top Ten Beach by Trip Adviser. So when in Rome….do as the Roman and get out there and try surfing. You know you have always wanted to try and "Hang 10″ and now is your chance. Don"t sit on that beach any longer thinking "I could do that"  as you watch the surfers out on the ocean. Get of your beach chair and give it a try.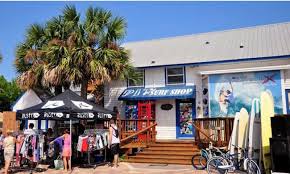 If you are staying in St Augustine beach, we recommend you stop by "The Pit Surf Shop" located on A Street next to Mango Mangos and check out their surf lessons. General information on the Pit Surf Shop lessons are:
Surf lessons are available 7 days a week between 10 am and 5 pm. All lessons are private, meaning you won't be thrown into a group of people you don't know. Group lessons of 5 or more are available. All surf lessons take place right  on St. Augustine Beach. You can  call the Pit Surf Shop at  904-471-4700 for pricing on large group lessons or more information.
Pricing  – Two hours – Board and wetsuit included
1 PERSON LESSON 2 Hours One-on-one instruction with your own instructor.
$75
2 PERSON LESSON $60/PERSON
3 PERSON LESSON $49/PERSON
4 PERSON LESSON  $55/PERSON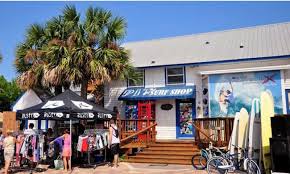 If a summer surf camp is of interest, The Pit Surf Shop also runs camps as well.
Summer Surf Camp runs weekly, Monday – Thursday 9:00 AM to 12:30 PM. 2017 SUMMER SURF CAMP DATES ARE MAY 22ND – AUGUST 17TH. Surf camp is an amazing experience for boys and girls of all experience levels. Students have  the option of Fiberglass, Epoxy, or Soft Top Surfboards. HEALTHY SNACKS AND DRINKS are provided each day. Every surf camper gets a  Pit T-Shirt and more at the beginning of the week! PLUS, in-store discounts for the whole family during the week of camp.
For more information on surf lessons and surf camp in St Augustine visit The Pit Surf Shop website. You can also check out their  surf cam and the local surf report  here