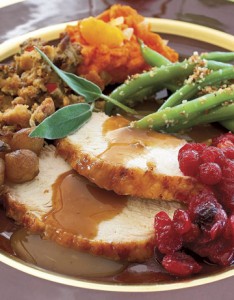 Here is a list of the Restaurants in the Saint Augustine area that will be open on Thanksgiving 2017.
Some are only open for breakfast so be sure to check the hours. This list was provided by the VCB. If you are open and not on the list, please add your information in the comments section.
Have a Happy Thanksgiving!
| | | | | | | |
| --- | --- | --- | --- | --- | --- | --- |
| Restaurant | Location | Phone | Menu Type | Thanksgiving Hours | Reservations |   |
| Casa Benedetto's | 165 Vilano Rd | 471.5999 |   | Closed |   |   |
| Café Cordova | 95 Cordova | 810.6810 |   |   |   |   |
| Costa Brava | 95 Cordova St. | 810.6810 | Breakfast Buffet & Brunch | 11 A.M. – 8 P.M. | Strongly Suggested |   |
| 180 Vilano Grill & Pizza | 180 Vilano Rd | 827.1009 |   | Closed |   |   |
| A1A Ale House | 1 King St. | 829.2977 |   | Closed |   |   |
| Alcazar | 25 Granada St. | 825.9948 |   | Closed |   |   |
| Alice & Pete's Pub | 1000 Pga Tour Blvd | 285.7777 |   | 11a.m.- Midnight |   |   |
| Athena's Greek Restaurant | 14 Cathedral Pl. | 823.9076 | Menu Type | 7a.m. – 9p.m. | Walk Ins |   |
| Vernon's | 1000 Pga Tour Blvd | 285.7777 | Traditional Dinner – plated | 12p.m. – 6:30p.m. | Reservations a must |   |
| Aunt Kates | 612 Euclid Ave | 829-1105 | Traditional Dinner – plated with a few menu items. | 11:30a.m.-5:30p.m. | Strongly Suggested |   |
| Amici Italian Restaurant | 1915 A1A South | 461.0102 |   | Closed |   | |
| Ann O'Malley's | 22 Orange St | 825.4040 |   | Closed |   | |
| Atlantic Grille | 200 Ocean Crest Dr. | 386.447.4610 | Normal menu and a chefs special | 5p.m.- 10p.m. | Strongly sugessted | |
| Aviles Restaurant & Lounge | Inside Hilton Historic Bayfront | 829-2277     (press 3 for restaurant) | Thanksgiving Buffet | Traditional Dinner Buffet from 12:00PM – 2:00, 3:30 maybe a 6p.m. for the traditional dinner.            | Reservations Only | |
| Back Yard Island (Meehab's) |   | 810.1923 | Traditional Dinner- Plus menu items | 11:00AM – 2:00 AM | Walk Ins | |
| Barnacle Bill's | 14 Castillo Dr. | 824.3663 |   | Closed |   | |
| Barley Republic | 48 Spanish St. | 547.2023 | Limited Menu | 1p.m.- ? |   | |
| Beachcomber | 2 A St. | 471.3744 |   | Closed |   | |
| Beach's of Vilano | 254 Vilano Rd. | 829.0589 |   | Closed |   | |
| Black Molly Grill | 504 W. Geoffrey St. | 547.2723 |   | Closed |   | |
| Blackfly The Restaurant | 108 Anastasia Blvd | 201.6300 |   | 4p.m. To 11p.m. | Must make reservation | |
| Blue Hen | 117 Martin Luther King Avenue | 217.3777 |   | Closed |   | |
| Borrillo's Pizza & Subs | 88 San Marco | 829.1133 |   | Closed |   | |
| British Pub | 213 Anastasia Blvd. | 810.5111 |   | Closed |   | |
| Cafe 11 | 501 A1A Beach Blvd | 460.9311 |   | Closed |   | |
| Cafe Alcazar | 25 Granada St. | 825.9948 |   | Closed |   | |
| Costa Brava | 95 Cordova | 827.1888 | Grand Buffet | 11:00a.m. – 8p.m. | Reservations a must | |
| Cafe Del Hidalgo | 35 Hypolita St. | 823.1196 | Regular menus | 10:00a.m.- 10:00p.m. | Walk Ins | |
| Vernons | 619 Ocean View | 285.7777 | Buffet | 6am – 11:00am 5:00pm -11:00pm | Reservations a must | |
| Cafe Solo Brasierissimo | 8 Aviles St | 810.2399 |   | Closed |   | |
| Cap's on The Water | 4325 Mytle St. | 824.8794 | Buffet and Traditional | 4:00pm – 10:00pm | No reservations needed the whole party must be there if they want to be seated. | |
| Carmelo's Market Place | 146 King St. | 429.0046 |   | Closed |   | |
| Casa Maria | 1001 A1A Beach Blvd | 342.0532 |   | Closed |   | |
| Casa Maya | 22 Hypolita St | 823.0787 |   | Closed |   | |
| Catch 27 | 40 Charlotte St | 217.3542 |   | Closed |   | |
| Cellar 6 | 6 Aviles St | 827.9055 |   | Closed |   | |
| Centro | 17 King St | 891.0318 email or text only. | Grand Buffet | 1p.m. to 7p.m. $34.99 I think per plate. | Reservations strongly suggested if you want to dine   there but also accepts walks in if you are small group. | |
| Chatsworth Publick House | 10 Marine St | 615.1815 |   |   |   | |
| Champions Grille | King & Bear WGV | 940.6261 | Breakfast & Lunch | 7Am – 1Pm | Walk Ins | |
| City Coffee | 1280 A Ponce De Leon | 209.6810 |   | Closed |   | |
| Collage Restaurant | 60 Hypolita St. | 829.0055 |   | Closed |   | |
| Columbia Restaurant | 98 St. George St. | 824-3341 | Traditional Dinner – plated as well as menu items. | 11:00AM – 10:00PM | Reservations Strongly suggested & walk in as well. | |
| Conch House Restaurant | 57 Comares Avenue | 829-8646 | Traditional Dinner- As Well as menu and six or seven entrees. | 11:00AM – 5:00PM Dinner | End of October taking Reservations! | |
| Creekside Dinery | 160 Nix Boatyard | 829.6113 |   | Closed |   | |
| Crown & Bull | 53 St. George St. | 342.2867 |   | 11:00a.m.-9:00p.m. |   | |
| Crucial Coffee | 26 Charlotte St | 810.2080 |   | 7:30a.m. – 10p.m. |   | |
| Cruisers Grill | 3 St. George St. | 824.6993 |   | Closed |   | |
| Dan Murphy's Irish Pub | 4320 A1A South | 295.8101 |   | Closed |   | |
| Dolce Café | 210 St. George St. St.C3 | 615.1583 | Still up in the air about opening. |   | If they open up it will be Walk in Only. | |
| Donovan's Irish Pub | 7440 US1 N | 829.0000 |   | Closed |   | |
| Elkhouse Eatery | 6357 A1A South | 342.7639 |   | Closed |   | |
| Fairway Cafe | Adjacent to the World Golf Hall of Fame | 940.4050 |   | Closed |   | |
| Famous Fish House Johnny's Oyster Bar | 20 Avenida Menedez |   |   |   | Walk Ins | |
| Flavors Eatery | 125 King St. Suite C | 824.4221 |   | Closed |   | |
| Florida Cracker Cafe | 81 St. Goerge | 829.0397 |   | Closed |   | |
| Fusion Point | 237 San Marco Ave | 823.1444 |   | Closed |   | |
| Gas | 9 Anastasia Blvd | 217.0326 |   | Closed |   | |
| Gaufres Goods | 9 Avile St. | 829.5770 |   | 11:00am- 3:30p.m. |   | |
| Georgies Diner | 100 Malaga St. | 819.9006 | Menu Type | 7Am – 1Pm | Walk Ins | |
| Giggling Gator | 121 King St. | 824.0444 |   | 6Pm – 2Am | Walk Ins | |
| Gourmet Hut | 17 Cuna St | 824.7477 | Special Menu and Traditional as well | 5:30p.m.-10:00p.m. | Reservations a must! | |
| Gypsy Cab | 828 Anastasia Blvd | 824.8244 | Special Menu and Traditional as well | 1:00p.m. – 8:00P.m. | Call ahead & walk in as well. | |
| Harry's Seafood Bar and Grille | 46 Avenida Menendez | 824.7765 |   | Closed |   | |
| Haszard's Open Pit | 5633 A1a South | 461.4201 |   | Closed |   | |
| Holiday Isle Oceanfront Resort | 860 A1A Beach Blvd | 471.2555 |   | Closed for renovations. |   | |
| Honey Baked Ham | 272 SR 312 | 810.0995 |   | Closed |   | |
| Hoptinger | 200 Anastasia Blvd | 217.8100 |   | Closed |   | |
| Hot Shot Bakery | 47 Cordova St. | 824.7898 |   | Closed |   | |
| Hurricane Patty's At Oyster Creek | 69 Lewis Blvd | 827.1822 |   | Closed |   | |
| Island Café The Backyard | 51 Charlotte | 810.1923 |   | 11 a.m.- ? | Walk Ins | |
| The Ice Plant | 110 Riberia St. | 829.6553 |   | Closed |   | |
| IHOP | 2560 State Rd 16 | 829.2215 | Menu Type | 6am – 10pm | Walk-ins welcomed | |
| Jaybird's | 2700 N. Ponce De Leon Blvd | 429.7153 | Thanksgiving Buffet | 11 a.m.- 4p.m. | Reservations a must! | |
| JJ's Liberty Bistro | 330 A1A N | 273.7980 |   | Closed |   | |
| JT's Seafood Shack | 5224 N. Oceanshore Blvd | 386.446.4337 |   | Closed |   | |
| King Fish Grill | 252 Yacht Club Dr. | 824.2111 |   | Closed |   | |
| King's Head British Pub | 6460 US 1 North | 823.9787 |   | Closed |   | |
| La Cocina | 3290 US1 South | 794.1610 |   | Closed |   | |
| La Herencia | 4 Aviles St. | 829.9487 |   | Closed |   | |
| La Pentola | 58 Charlotte St. | 824.3282 | Traditional Dinner – plated and some limited items from menu. | 12 p.m. – 8p.m. | Reservations a must! | |
| Le Pavilion | 45 San Marco Ave | 824.6202 | Set menu. | 11:30a.m.-8:00p.m. | Strongly Suggested  | |
| Legends Grille Restaurant | WGVR | 940.6160 | Standard menu | 7:00 – 1:00P.M. | Reservations Strongly suggested & walk in as well. | |
| Llama Restaurant | 415 Anastasia Blvd | 687.3403 to make reservations 819.1760 |   | Closed |   | |
| LuLu's Waterfront Grille | 301 N Roscoe | 285.0139 |   | Closed |   | |
| Manatee Cafe | 525 SR 16 | 826.0210 |   | Closed |   | |
| Mango Mango's | 700 A1A Beach Blvd | 461.1077 |   | Closed |   | |
| Maple Street Biscuit Company | 41 Cordova St. | 217.7814 |   | Closed |   | |
| Mediterranean Shis- Kbob | 2180 U.s. 1 South | 460.2846 |   |   |   | |
| Meehans | 980 Santa Maria Blvd | 810.1923 | Traditional Dinner – plated | 11:00AM – 2:00 AM | Walk Ins | |
| Metro Diner | 1000 S Ponce De Leon Blvd | 758.3323 | Limited menu right now for Breakfast, and Lunch call for dinner | Open | Walk Ins | |
| Mi Casa Cafe | 69 St. George St. | 824.9317 |   | Closed |   | |
| Mikato Japanese Steak House | 1029 Ponce De Leon | 824.7064 |   | Closed |   | |
| Mojo's BBQ | 5 Cordova St. | 342.5264 |   | Closed |   | |
| Murray Brothers Caddyshack | WGVR | 940.3673 |   | Closed |   | |
| Nineteen | 110 Championship Way | 273.3238 Jamie Fowler | Upstairs is Buffet downstairs alacarte not full. | 11a.m. – 5p.m. 7a.m. – 9 p.m. | Reservations a must! Upstairs almost full! | |
| Nona's Trattoria | 2 Aviles St. | 891.0318 |   | 12pm till 9pm or 10 pm | Reservations a must | |
| OC Whites Seafood & Spirits | 118 Avenida Menendez | 824-0808 | Three choices all the same price. | 11 a.m. – 8p.m. | Priority seating | |
| Odd Bird's Bar @ Frida's | 33 Charlotte St. | 679.4933 |   |   |   | |
| Old City House Inn & Restaurant | 115 Cordova Street | 826-0184 | Traditional with some menu items. | 11:30am – 7pm  | Reservations a must | |
| O'steens | 205 Anastasia A1A South | 829.6974 |   | Closed |   | |
| Outback Crab Shack | 8155 CR 13 N | 522.0500 |   | Closed |   | |
| Oyster Creek Eatery | 117 King St. | 217.3772 |   | Closed |   | |
| Panama Hattie's | 361 A1A Beach Blvd | 471.2192 |   | Closed |   | |
| Pizza Dina | 400 St. George St. | 826.3535 |   | Open | Walk Ins | |
| Pizza Time Restaurant | 124 St. Goerge St. | 819.0133 |   | Closed |   | |
| Pizzalley's Chianti Room | 60 Charlotte St. | 825.4100 |   | Closed |   | |
| Playa Choc Mool | 105 D St. | 471.1131 |   | Closed |   | |
| Present Moment Cafe | 224 W King St. | 827.4499 | Pre Order packages. Put in a order by the first week of Nov. | Closed |   | |
| Preserved Restaurant | 102 Bridge St | 679.4940 |   | Closed |   | |
| Prohibition Kitchen | 119 St. George St. | 825.4100 |   | Closed |   | |
| Purple Olive | 4255 A1A South | 461.1250 |   |   |   | |
| Pusser's Caribean Grille | 816 A1A North #100 | 280.7766 | Trditional dinner and menu | 11am-8pm | Reservations and walk ins | |
| Raintree | 102 San Marco Avenue | 824-7211 | Traditional Dinner – plated and some limited items from menu. | 12:00p.m. – 8:00P.m. | Resevations Highly Suggested! | |
| Ruth Chris Steakhouse | 814 N Hwy | 285.0014 | Bloody Mary & Biscuits, Traditional Dinner Plate, and regular menu. | 9a.m. – 12p.m. & 12p.m. – 8p.m. | Reservations a must! | |
| Salt Life Food Shack | 321 A1A Beach Blvd | 217.3256 |   | Closed |   | |
| Salt Water Cowboys | 299 Dondanville Rd. | 471.2332 |   | Closed |   | |
| Sangrias Tapas & Piano Bar | 35 Hypolita St. | 827.1947 | Tapas | 2p.m. – 11P.m. |   | |
| Scarlett O'Haras | 70 Hypolita St. | 824.6535 |   | 11;00am-6;00pm | Walk Ins | |
| Schooners Seafood House | 3560 N Ponce De Leon Blvd | 826.0233 |   | Closed |   | |
| Schmagel's Bagels | 69 Hypolita St. | 824.4444 | Bagel's | 7a.m. – 1p.m. | walk Ins | |
| Seafood Company | 33 St. George St. |   |   |   |   | |
| Smokin D's BBQ | 110S.R. 206 East | 797.2050 | Open just giving handing out turkeys that were already pre ordered. |   |   | |
| South A Philly | 1 King St. | 824.0666 |   | Closed |   | |
| South Beach Grill | 45 Cubbedge Rd | 471.8700 |   | Closed |   | |
| Spanish Bakery | 42 1/2 St. George St. | 342.7859 |   | Closed |   | |
| Taberna Del Gallo | 37 St. George St. | 342.2867 |   | 11:00a.m.-9:00p.m. |   | |
| Terra & Acqua | 134 Sea Grove Main St | 429.9647 |   | Closed |   | |
| The Bunnery | 121 St. Gorge St. | 829.6166 |   | Closed |   | |
| The Prince Of Wales | 54 Cuna St | 810.5725 |   | Closed |   | |
| The Reef Restaurant | 4100 Coastal HWY – A1A North | 824-8008 | Extended Brunch | 10:30AM – 4:00 PM | Strongly Suggested  | |
| The Taco Shop | 114 St George St. | 823.1229 |   | Closed |   | |
| The Tasting Room | 25 Cuna St. | 810.2400 |   | Closed |   | |
| The Floridian | 39 Cordova St. | 829.0655 |   | Closed |   | |
| Table One | 330 A1A N | 280.5515 |   | Closed |   | |
| Theo's | 169 King St. | 824.5022 |   | Closed |   | |
| Trasca & Company Eatery | 155 Tourside Dr. Ste 1500 | 395.3989 |   | Closed |   | |
| Villagio Italian Grille | 500 S. Legacy Trail Renaissance Resort Of World Golf Village | 940.8000 | Special Buffet | 11:00 a.m. – 3PM | Reservations a must! | |
| Viola's | 6149 A1A South | 471.2981 |   | Closed |   | |
| Zaharia's | 3945 A1A South | 471.4799 | Set menu and Traditional dinner | 11:00am- 9pm | Reservations a must! | |
| | | | | | | |
| | | | | | | |
| | | | | | | |
| | | | | | | |
| | | | | | | |
| | | | | | | |
| | | | | | | |
| | | | | | | |
| | | | | | | |
| | | | | | | |
| | | | | | | |
| | | | | | | |
| | | | | | | |
| | | | | | | |
| | | | | | | |