It's that time of the year again! If you're a fireworks junkie like I am, then you can't miss the Fireworks over the Matanzas!
The event starts at 6 PM on the 4th of July. There will be a band  at the Plaza for a two-hour show. If you like live music, then the Plaza is the place to be.  They will also be performing some patriotic tunes to keep it festive. It's free to attend, you may want to bring a blanket or a chair.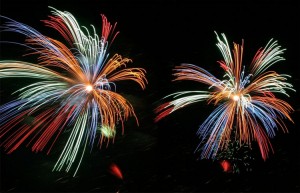 The fireworks start at 9:30PM, they will last about 20 minutes.  The show is choreographed to music that can be heard all along the Bayfront, from the Fort to the bridge.
The lawn of the Fort is a great place to watch them. It's a good spot to bring a cooler and a picnic too.  There are portable bathrooms here also. You can also find public restrooms on St. George Street.
Traffic is heavy and parking is tough in downtown.  If you can ride a bike in, walk or take a cab, that would be your best bet.
The Independence Day celebration downtown is a really fun night with spectacular fireworks. It truly is an event worth seeing.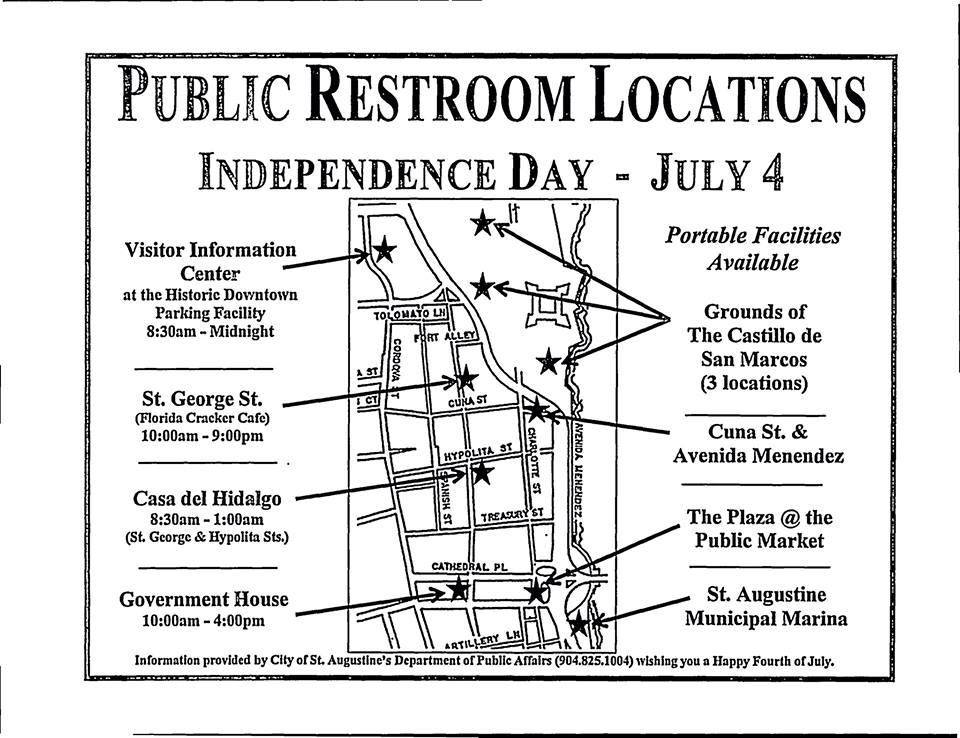 Getting in, parking, and getting out:
St. Augustine's annual Fireworks Over The Matanzas draws more people–and cars–into the downtown area than any other single event all year long. A growing trend in recent years has been the use of bicycles by those who live close to downtown or carpooling with friends to minimize the number of cars in need of a place to park.
Rerouting of traffic will begin at 8:30pm and will include closing of the Bridge of Lions, Avenida Menendez and South Castillo Drive to all vehicular traffic to accommodate the vast number of pedestrians. The best advice is to arrive early, explore the city, enjoy the show, and be patient during departure. The Bridge reopened last year at 10:15.
Parking in city owned lots and on-street is free on July 4th with the largest concentration of surface parking located on Granada Street behind the Lightner Building. The Historic Downtown Parking Facility  located at the Visitors Information Center can accommodate 1,200 vehicles. The rate is $10 per car per entry. Also there will be no access to or from the parking lot of the Castillo de San Marcos National Monument from 6:00pm until 11:00pm.
St. Augustine's Old World streets are a key component of its Old World charm and a challenge when dispersing large numbers of vehicles, but the St. Augustine Police Department has refined a traffic plan that moves vehicles safely and as quickly as possible out of the downtown area following the fireworks. King St. will be dedicated to west-bound traffic out of the downtown as well as both lanes of West Castillo Dr. Traffic signals in the downtown area, along Ponce de Leon Blvd. (U.S. 1), Anastasia Blvd., and State Roads 312, 207 and 16 will be monitored to facilitate traffic flow.
We hope you enjoy the show and have a safe holiday.
The Locals' Guide to Saint Augustine