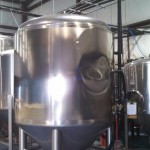 If you like beer, St. Augustine has a brewery.
If you are in the downtown/historic area you have A1A Ale Works, they brew their own. You can get a sampler here and try them all. I happen to love their Porpoise Point IPA      
If you don't mind that they didn't brew it themselves, then check out
JP Henley's located on Marine Street, right next to A1A Ale Works. 
They have over 50 beers on tap from  all over the world.
  They also have countless bottles to choose from, a fabulous wine selection, great pub food and a fun atmosphere.         If you love a good Guinness and appreciate when they pour it just right, check out Ann O'Malley's  on Orange Street, near the city gates.
This is a great locals spot, a great place to watch a game or play trivia.  
  If you are looking for a wonderful selection of interesting craft beers, try Rendezvous on St. George street. You have to duck into a shopping mall to find it, but it's worth the search.
They have over 250 imported beers.
They are constantly changing beer here, so there's always a reason to keep you coming back.  
All of these great spots are "local Approved."
 Cheers!