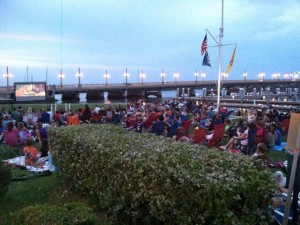 Looking for a FREE, family friendly night out? Check out the 2015 schedule of Movies by the Bay. Bring your lawn chairs, a blanket and a picnic and relax on the waterfront while being entertained by the big screen! Look for parking in Saint Augustine at the Fort, the bay front or the Parking garage. You can catch a free shuttle from the Visitors Information Center train stop to the marina so you don't have to worry about carrying chairs and things too far. The movies are held at the St Augustine Municipal Marina, at the foot of the Bridge of Lions.
SCHEDULE
■ June 17 — "Shark Tale" (PG)
■ June 24 — "Annie" (PG)
■ July 1 — "The Boxtrolls" (PG)
■ July 8 — "Maleficent" (PG) — Maleficent will make an appearance.
■ July 15 — "The Lego Movie" (PG)
■ July 22 — "Big Hero 6" (PG)
■ July 29 — "Karate Kid" (PG)
■ Aug. 5 — "The Incredibles" (PG) — Superhero Back to School party with free mini golf, appearances by Captain America and Iron Man, games, prizes and activities. Participants are encouraged to come dressed as their favorite superhero. Activities begin at 7 p.m. and run through the start of the movie.