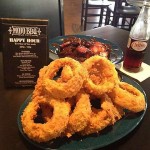 I grew up in South Florida where grilling and BBQ goes hand in hand. In the summer we would spend time in Arkansas and in Memphis. My grandparents lived there, therefore, I grew up on BBQ. So when I heard a new BBQ place moved into town I had to check it out. My husband Wayne and I went to MoJo Old City BBQ  on our day off and BOY were  we  pleasantly surprised! We ordered the BBQ rib tips for an appetizer.  I had the fried catfish and Wayne had the pulled pork Quesada for dinner. They were both delicious!
 I heard from a friend that the onion rings were very good there. The way she described them made me want to go out immediately and try the onion rings. I waited until Monday my next day off and went to lunch with my sister in-law. I went there for the onion rings UNTIL my sister in law said, "have you had the BBQ Chicken Nacho's yet?" That is what we ordered Nachos and rings. Once again, we were not disappointed. Everything was so flavorful. I can see why my friend raved about the onion rings, they were the best I've had so far. There is so much chicken on the nachos it was hard to believe it was an appetizer portion. I thought to myself, I could bring an order of the nacho to the salon and feed all four girls for sure.
 The restaurant is quite large, they have indoor and outdoor seating. The outdoor patios are "Dog Friendly" too. It has a rustic atmosphere, and the service is very good. This is a family friendly restaurant. It is a real pit BBQ so the ribs and chicken are delicious and everything is fresh. The sweet tea is brewed perfect and so refreshing. The Catfish I ordered was a fresh catch. You can definitely  taste the difference. I will be back with friends! In addition, the way this town is buzzing about the new BBQ place downtown  there was no doubt it would be a local's favorite in no time!
 Contributed by Joan Salisbury by Joan Salisbury
  5 Cordova  Street, Saint Augustine.
Pet Friendly Restaurant