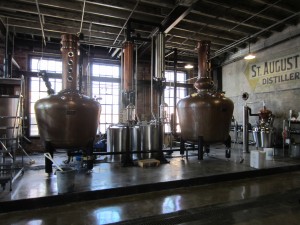 When you drive by the old Ice Plant building on Riberia Street in Saint Augustine, Florida, one phrase comes to mind, "you've come a long way baby."
Not only does it house The Ice Plant Bar, it is now the home of the St. Augustine Distillery Company. Inside this incredible building with its rich history, they are now crafting fabulous artisanal liquors.  It is the first craft distillery in Northeast Florida.
You can tour the distillery daily. They offer free tastings, a gem of a museum, a theater to watch
a film about the process and a beautiful well stocked gift shop for all of your bartending needs. You can also purchase their liquors here.
Keeping in the spirit of things, the distillery has turned  half of the building into a work of art while preserving the feel of the old ice plant. It is home to two magnificent copper stills crafted by Vendome Copper & Brass Works, of Louisville, Kentucky. The last remaining producer of copper stills in the USA.  One copper still holds 750 gallons, the other 500 gallons. The two stills work in harmony, dancing together to create a product like no other. Why copper you ask? Compounds containing sulfur bind to the copper during the distillation process. These sulfur compounds would leave unwanted characters in the distillate. Sitting beside these two beauties you will find a botanical still. It is truly a sight to behold.  A botanical still is a smaller version of a pot still and it is used to make Gin or other botanical spirits.
On this particular beautiful sunny Florida day, I sat down with Philip McDaniel, one of the partners in this brilliant venture. After our conversation, I knew this was a winner. How did I know? These folks have passion! It's more than passion though that will make this distillery a star on the map. It's what these folks are giving back to the community that is so impressive to me. They care. They care about the environment and they care about people. They care about this town, and the state of Florida.
They care enough to have partnered with local farms who grow NON- GMO corn and red wheat. This is where they  purchase the  grains for use in making Bourbon. For example, the Wells Brothers Farm in St. John's County is practicing sustainable agriculture. Not only are they providing a local source of grain, they then take back the distillers grain, which is a co-product of the whiskey making process to feed their cattle.  They have also partnered with KYV Farm, a family-owned farm in St. John's County. This certified organic farm is helping to preserve some heirloom sugarcane that was once prevalent in Northeast Florida and is used to make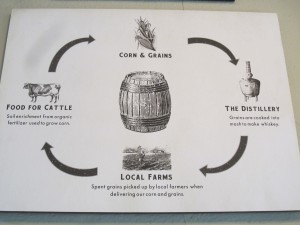 rum. The farms also take back spent grain to use for compost and mulching. They also are letting the community take part in harvesting some of these crops and teaching the community about sustainable farming,  truly allowing everyone to take part in this incredible movement of small craft distilleries.
They are also the first distillery in the United States to install a three phase – zero water discharge system. What does that mean to the environment? They send no city water down the drain during the process of cooling the mash in the fermentation stages of production.
For the grand opening they will be serving vodka only. About three months later,  Gin will be available for tasting and for sale, followed by Rum in 2015, and Bourbon in 2016. As the saying goes,  "anything good is worth waiting for." This will give you plenty of good reasons to
keep going back to visit the distillery again & again.
The day I was in they were cooking Bourbon. Oh how I love Bourbon. I was able to see the mash fermenting and boy oh boy, could you smell it. It smelled sweet and doughy and the scent was just permeating the air. It won't be ready for two years though. For this, I will have to wait patiently.
Brendan Wheatley, the director of production was kind enough to take me on my tour. After telling him about my love affair with Bourbon, he taught me plenty. He showed me the beautiful Oak barrels that would be home to that delicious nectar from the gods for the next few years. He let me peak at the mash fermenting as it bubbled about. He taught me how they use steam to clean the grain, so they don't have to use many chemical agents. You could see the steam rising above the mash evaporating into the air like
magic . He explained to me exactly what has to take place in order for whiskey to be called Bourbon. For one, it needs to be made in America. It has to be made of at least 51% fermented corn mash and you must use a new charred Oak barrel each time. It must not exceed 80% alcohol by volume, and cannot be stored at more than 62.5% alcohol by volume in its barrel. No wonder it's so good. It is pampered from start to finish.
There is such dedication to the making of these spirits. Whether it's their vodka or gin, bourbon or rum, you can be sure they have sourced the finest ingredients and  have given it their undivided attention. They will be serving up delicious liquors at the Distilleries tasting room.
This is going to be one "kick ass product" said Philip McDaniel, and I concur. They have Dave Pickerell to thank for that.  Dave was the Master Distiller at Maker's Mark for 14 years. He is overseeing operations at this facility and was instrumental in the engineering and layout.
God, I can't wait to try the Bourbon.
So what do I love about this place? Absolutely everything! I love the whole idea of stepping back in time and into the future all at once. I love bellying up to the bar for a tasting that is made from a reclaimed bench from an old mill building. I love the fact that I get to try handcrafted liquor made using sustainable agricultural practices that are good for our environment. I love this idea. I love this place.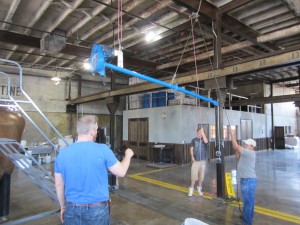 You will too.
Cheers!
Tour hours are Monday – Saturday –  10:00 -6:00
Sunday – 11:00 – 6:00
112 Riberia Street
Saint Augustine, Florida 32084