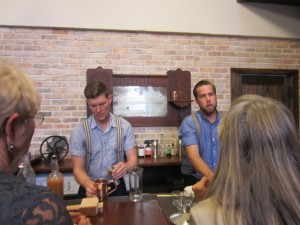 Looking for a great Tour? Check out the St. Augustine Distillery. If you're riding the green or red trolleys, you will find it's one of the stops on the tour. If not, they have plenty of free parking or you can walk from town.
The Distillery is in the old Ice Plant building on Riberia Street in Saint Augustine, Florida. They have painstakingly refurbished it into a real historic gem.
The tour is free and includes a tasting of their artisanal handcrafted spirits. At the time of our tour, they were only serving their cane  vodka (safe if you're going gluten free). We had a taste straight up and in a mixed drink, The Florida Mule. Delicious!!  It was a combination of  Cane Vodka, ginger, lime juice and simple syrup. They serve those up everyday next door at the famous Ice Plant Bar in an authentic copper mule cup. Read about the Ice Plant here.
My tour guide was Diana Lee. She is a consummate professional in the industry and has a wealth of knowledge about St. Augustine. The tour starts off in the Museum where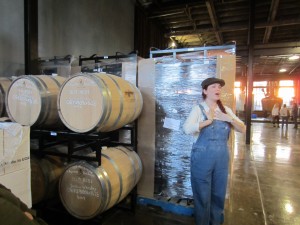 you can learn about  the distilling process along with the history of the old Ice Plant building. From there, you enter  the theater to view a movie featuring a behind the scenes look at the making of the product and  the "farm to spirits" approach. They really have focused on supporting local farmers and sustainable agriculture. Next up, you get to see the distillery itself and  the beautifully crafted copper stills and equipment. The day we visited you could smell the sweet aroma of the mash fermenting that will eventually become bourbon.
Now you are on to your tasting and a lesson in craft cocktail making the old fashion way. I loved the vodka and ended up buying 2 bottles from batch number one.
The Distillery also has a gift shop where they sell anything & everything for a well stocked bar. You can purchase their spirits here as well!
I think it's a fun thing to do in St. Augustine. It's not every day you can tour a distillery, taste some terrific handcrafted  vodka  and get a history lesson all in the same spot.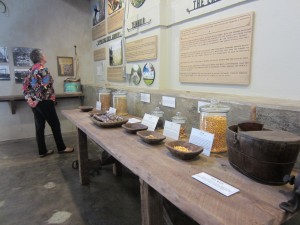 Go check it out.
Want to know more details  about the Distillery click here.
Tours hours are Monday – Saturday  from 10:00 – 6:00
Sunday -11:00 – 6:00
112 Riberia Street
Saint Augustine, Florida 32084