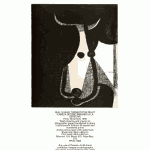 Do you like Picasso? If so you're in luck, the Picasso exhibit is open through August 11, 2013.  The exhibit is in the St. Augustine visitor center, 10 West Castillo Dr.
PICASSO Art & Arena is an educational exhibition of graphic work and ceramics by the Spanish master showcasing 39 art pieces from the Fundación Picasso, Museo Casa Natal of Málaga, Spain. The exhibition includes original Picasso art pieces created between 1929 and 1961. The art was produced in different styles, techniques and media, providing unique insights into one of Picasso's main themes: bullfighting.
ADMISSION Adults – $10 Seniors – $8 Kids 6 & Under – Free Kids 7 to 12 – $5 Family of 4 – $20 Military in Uniform – Free All St. Johns County Students (ID required for College-Level Students) – Free
The visiting hours are 9 AM to 5 PM daily.