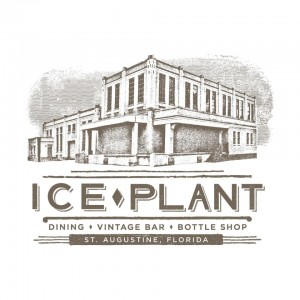 UPDATE- NEW FALL / WINTER MENU IS OUT!
The highly successful Ice Plant has been open for several months and have just released their new Fall/Winter Menu. Click the links to see the New Menus.
New Fall/Winter Menu         Late Night Happy Hour Menu
UPDATE – THE ICE PLANT IS NOW OPEN!!
If you are looking for info on the St. Augustine Distillery click here.
Usually we don't review a place until we've tried the food and drinks but this place is different. We had to review it now. Why? Because it's that special. Every day we're asked the question, "what do you know about the ice plant.  When are they opening?" With this much excitement from the community, I knew we needed to review it early. As of today, September 5, 2013, we have been told that they're shooting for some time within the next week or two. We will keep you posted on the opening date.
We met with Patricia McLemore today, one of the owners of this very special landmark. As I sat down next to her at the beautiful vintage bar, I realized this was not just any bar and restaurant. This place was going to be an "experience" for anyone entering through the vintage doors.
The setting is in the old St. Augustine Ice Plant at 110 Riberia Street. It is a beautiful building that has undergone extensive renovation. The attention to detail to keep the vintage look and feel of this establishment is apparent from the minute you walk through the doors. After they gutted the old building, they painstakingly refurbished it with reclaimed metal, reclaimed wood and gorgeous reclaimed wood floors. The walls are work of art. The way they were finished leaves you feeling like you have been transported to the old ice plant in the early 1920's. The attention to detail and refurbishing  carries through right down to the restrooms. Walking into the restroom is like stepping back in time. White subway tiles adorn the walls and floor and the  pull chain toilets remind you of times past. They even have a sink in the ladies room that goes back to the early 1920's. They have thought of everything here, right down to the mosaic tile Ice Plant logo on the floor as you step through the vintage door.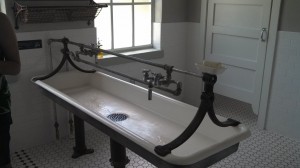 We met the head bartender on our tour of the bar. His name is Zach and after speaking to him for a few moments, I realized he was a true Mixologist. He is a consummate professional,  He answered all of my questions with a friendly ease about him that made me want to belly up to that bar and order a drink immediately. That unfortunately will have to wait till another day. Opening day!
Zack explained to me all of the things that make their drinks unique. To start with, they make all of their own soda there.
Freshly extracted Ginger becomes ginger ale. Freshly squeezed lemons and limes mixed with some homemade simple syrup and soda water are turned into a delicious concoction almost too good to be called soda. And last but not least, they make their own cola here too.
Every day starts out with juicing fresh grapefruits, lemons, limes and oranges for their delicious signature drinks. They even go as far
as to make their own grenadine here. It's made with fresh pomegranate juice, cane sugar, and a bit of orange blossom water. All of these delicious fresh healthy ingredients will go into their signature artesian cocktails that are reminiscent of the early 1920s. Each of these drinks is an experience.
A few of the cocktails offered are the Florida Mule and the Brooklynite.
The Florida Mule is made with cane vodka (local from Florida), ginger syrup, fresh lime and soda water. It is served in a classic Mule cup.
The Brooklynite is made with Siesta Key Gold Rum (local from Florida), honey, fresh lime and Angostura (Bitters)
I will warn you, after looking over the drink menu, it will be very difficult to choose your first cocktail at the Ice Plant.
Now let's talk about the ice! The Ice Plant is all about the ice. In keeping with the "spirit" of things,  they have decided to hand cut their ice for many of their cocktails. There are several different styles of ice  they will use in their cocktails –  pebbled, sphere, shaved,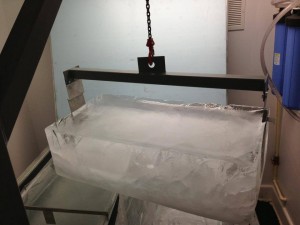 and long rock –  some of which are expertly hand cut. On the ground floor is a gorgeous kitchen decked out in stainless steel appliances, refrigerators and freezers. The kitchen hosts three different ice machines. Most bars only have your standard cube maker. The Ice Plant also has an icemaker that makes pellet ice as well as the bad boy of ice machines. They have a Clinebell Ice Machine! This workhorse of a machine makes 300 pound blocks of ice. It makes two blocks every two days. These giant blocks are then hand carved into sticks of different shapes and sizes to be married up with the cocktails. Ingenious I say! Finally my bourbon won't be diluted due to the ice.
The Ice Plant will be open from 5 p.m.  until 2 a.m. The kitchen will remain open until 10 p.m. They will be serving dinner and will be known for fresh wholesome  healthy ingredients.
For example, they will be serving  " The Ice Plant Burger", which is made with grass fed beef from Georgia that is hand ground in-house. I love the sound of that. The burger is served with a bacon-chive Aioli, lettuce, tomato and onion and your choice of fries or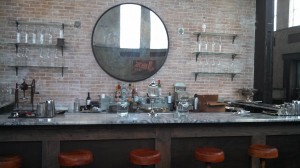 a house salad.
I also spotted on the menu  "The Bourbon Barbecue Pulled Sammy". It's smoked in-house with a jalapeno lime slaw and avocado. It also comes with your choice of fries or house salad.
The ice plant even goes as far as making their own homemade ketchup! Now that's dedication.
All in all,  I think  the Ice Plant will become a local favorite in no time. I myself can't wait to belly up to the bar and try some of their signature drinks and a burger. The effort that they have put in to restoring this building that is a piece of St. Augustine's history is extraordinary. This gives me every indication that they are committed and dedicated to making The Ice Plant a success.
We will keep you posted on the food & drink, and the opening.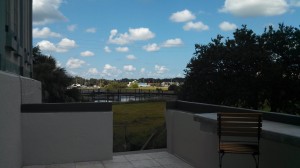 Until then,
Cheers!