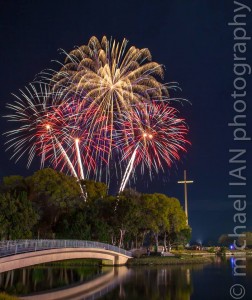 It's that time of the year again, time for the 30th annual Cathedral Festival at the  Mission  Nombre  de Dios. This is a fun filled event for all ages. Carnival rides, a fantastic firework display, live entertainment all weekend, Bingo, food and a silent auction are all waiting for you to enjoy and partake in. See for yourself why this event is a local's favorite.       The Fireworks show is Saturday night at 9:00 pm.  The festival runs from February 27th – March 1st, 2015   Photo By Michael IAN Photography
Location
Mission Nombre de Dios
101 San Marco Ave. On the grounds with the giant cross.
 Directions:
From Interstate 95: turn East on State Road 16. Right turn on San Marco Ave. Prince of Peace Church is located by the Cross on the Shrine grounds.
Admission
There is a nominal admission charge to enter the festival grounds. Adults are $5; children 11-17 and adults 65+ are $3; children under 10 and active duty military are admitted free.
Parking
City parking locations are marked with a "P" on the map and are pay/metered.
City of St. Augustine Visitor Information Center parking garage – normal parking fees apply every day of the Cathedral Festival. Located at 10 Castillo Drive, phone 904.825.1000, directly across from Barnacle Bills. 500 parking spaces available only 3 blocks from the Festival!
All parking sites listed above within easy walking distance of the Cathedral Festival Grounds.
Advance Ride Tickets
Advance ride tickets are on sale now! Advance ride tickets let you enjoy more rides for your money. Advance tickets are $13/sheet of 20; at the festival, tickets are $20/sheet of 20. Most rides take 4 to 6 tickets. Tickets are available at the Cathedral Basilica rectory or the CPS office. You may also contact the school, 904.824.2861, Monday – Friday 8 am – 2 pm, or a CPS family for more information.
Live entertainment schedule for 2015
TBA
5:00 – 5:30 pm
5:45 – 7:00 pm
7:30 – Close

Saturday February 28th, 2015

Noon – 2:00 pm
2:30 – 4:00 pm
4:00 – 5:00 pm
5:00 – 7:30 pm
8:00 – close

Sunday March 1st, 2015

Noon – 12:45 pm
1:15 – 3:15 pm
3:45 – 5:30 pm
6:00 – Close
Entertainment & Activities Schedule
5:00 pm – 10:30 pm
5:00 pm – 10:00 pm
5:00 pm
Festival Hours for Friday
K of C BINGO
Live Entertainment starts
Saturday February 28th, 2015
Noon – 10:30 pm
Noon
5:00 pm – 10:00 pm
9:00 pm
Festival Hours for Saturday
Live Entertainment starts
K of C BINGO
Fireworks (Rain date – Sunday)
Sunday MARCH 1ST, 2015
Noon – 9:00 pm
Noon
Noon – 5:00 pm
Noon – 8:00 pm
5:00 pm – 8:30 pm
6:00 pm
Festival Hours for Sunday
Live Entertainment starts
Silent Auction – Tables close at 3 pm and 5 pm
Shrimp Dinner ('til 8 pm or sold out)
K of C BINGO
Raffle
Silent Auction
The annual silent auction takes place Sunday March 1ST, 2015. Come and bid on a variety of prizes ranging from gift baskets and gift certificates to sports events, artwork,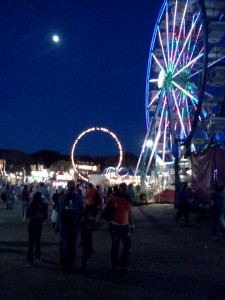 professional services, and so much more. The silent auction runs from noon to 5:00 pm, with the tables closing at 3:00 pm and 5:00 pm.
To make a donation to the silent auction, contact the Cathedral Parish Early Education Center at 904.829.2933. We welcome support from both individuals and businesses.
Super Raffle
Get your super raffle tickets from any Cathedral Parish School family, or call the school, 904.824.2861, or parish office, 904.824.2806. Tickets are on sale now! Donation: $3 per ticket, 2 for $5, 10 for $20.
Prizes TBA for 2015
Participants must be legal US residents & 18 years of age or older.
*Does not include tax, tag, title, or any other fees
**IRS withholding will be deducted where applicable
BINGO
Knights of Columbus BINGO plays all weekend.
All the BINGO games are played: straight, diagonal, letter "X," 4 corners, letter "T," large picture frame, small picture frame, postage stamp, and 3 layer cake to name a few ! Cash jackpots are 50/50 split or special prizes!
The BINGO tent is located on the Cathedral Festival Grounds by the Prince Of Peace Church on the East side by the parking lot.
Fireworks
Fireworks go off Saturday night at 9 p.m. (Rain Date is Sunday Night)
Shrimp Dinner
Our famous fried shrimp dinner takes place Sunday from 12 p.m. to 8 p.m. or until sold out. Advanced tickets are $8.00 and on-site tickets are $10.00.
Dinner includes jumbo fried shrimp, hush puppies, beans, and Cole slaw.
Food & Beverages
We have a little bit of everything. Come hungry!
Pizza slices, hamburgers, hot dogs, chicken, sausage & peppers, French fries, onion rings, corn on cob, wings, cotton candy, snow cones, popcorn, baked goods, ice cream, funnel cakes. Shrimp dinner Sunday afternoon. By popular demand, chili and chowder return to the menu this year.
Drinks, featuring Coca-Cola products, beer & wine (we ID – please drink responsibly).
Rides
Rides for all ages
Same as festival hours.
For more info https://www.facebook.com/CathedralFestival