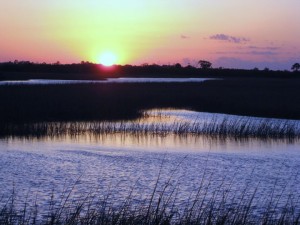 If you are looking for a great place to have a drink, on the water in Saint Augustine, Florida, you've come to the right webpage. Here you will find all the " local approved"  hotspots.
Let's start with Cap's on the Water. This has been a local favorite for years. It's located between St. Augustine and  Ponte Vedra  just over the Vilano Bridge heading north on A1A.  Is it worth the trip up from downtown? Absolutely! The atmosphere here can't be beat. It is one of the most beautiful  "old Florida" settings on the water that you will find in St. Augustine. Cap's has one of the most beautiful bars on the waterfront. It is planted with exotics and adorned with water features. They even have a cozy fire pit. They do have a boat dock, so you can come by boat if you wish. This is also one of the most beautiful places to watch the sunset.
In the same area between Saint Augustine, and Ponte Vedra you will also find Aunt Kate's Restaurant. This also has the old Florida feel on the waterfront with fabulous Oak trees and Spanish Moss surrounding the premises. This is a great place to stop in on your boat too. It's a casual setting with picnic tables on the waterfront deck. Facing west you also have awesome sunset views.
If you're looking for a drink or Sunday brunch The Reef Restaurant, also on A1 A North, has views of the Atlantic.
Now let's jump to historic downtown. You have a few options here with bayfront views. My all time favorite setting to have a drink in the evening is the Tini Martini Bar on the Bayfront. There is no place quite like this  to have a Martini  with its twinkling lights, spectacular water features and cozy fireplaces. The martinis here are fabulous. We have celebrated all kinds of things here and it is always been a favorite with friends and family.
In the same downtown  location you also have Meehan's Irish Pub. They have a great porch on the front of the bar with a fantastic view of the bay. One of our other favorite spots, especially for happy hour on Friday night  is The Bar with No Name.  It's located on the right of the watchtower if you have your back to the Bay. This is a great spot to listen to some live music too. It has a view of the Bay and the Fort.
I also want mention a great local hotspot called Hurricane Patty's. It sits in a Marina right off Route 1 close to downtown. It has a big outdoor deck, great live music and fabulous views of the marsh and the intercoastal. I probably should also mention it has some of the best Hurricanes in St. Augustine. They come in categories one through five. Since this is Florida, I've experienced them all. Another spot off of  Route 1 that deserves a mention is Creekside Dinery. It has a great outdoor bar and a fire pit to sit around and make s'mores. They have an outdoor stage with live music too. This is a fun spot, especially in the cooler weather to have a cocktail.
Nestled in a neighborhood in Davis Shores just over the Bridge of Lions headed South on Anastasia Island you will find one of my other  favorite places… the Conch House Resort and Marina. This bar is a must if you're visiting us. We take everyone there and it's one of the most requested places our guests want to go back to. If you walk past the restaurant down the dock you will find an incredible little bar over the water. They have great live music here and you're surrounded by boats and fishing charters coming in with their catch of the day. This is always fun to watch. They unloaded and clean the fish on the docks below. I have seen every type of wildlife here  from pelicans and egrets to dolphins and manatee and several sea turtles.  You can also look to your West and get a good view of sunset in the sky. They are famous for their Goombay Smash, St. Augustine's signature drink and Reggae Sunday.
If you head out Anastasia island looking for a drink on the water your best bet  is The Beachcomber on A street. This is actually the closest thing we have to beach bar and it has fantastic views of the sand dunes and Atlantic ocean. You really feel like you're on vacation here.
Also out on Anastasia island, if you just looking for a view and don't need to be right on water,  you can find that on the rooftop of Panama Hattie's.
If you head  down A1 A South almost down to Marineland, you will find another locals favorite… Matanzas Inlet Restaurnt. This spot is everything you could ask for. It has views of the ocean, the intercoastal, the sunset and the moonrise. This spot is incredible. It is also pet friendly and the perfect place to watch a gorgeous sunset in St. Augustine. I have seen dolphin from here, manatee, sea turtles and every beautiful bird you could imagine sitting out on the sandbars fishing for their dinner. This is truly Florida at  its best, relaxing and welcoming
Cheers!
Check the Google Map below for each great spot to have a drink on the water in St Augustine.
Cap's on the Water- 4325 Myrtle St  St Augustine, FL 32084
(904) 824-8794
Aunt Kate's- 612 Euclid Ave  St Augustine, FL 32084
(904) 829-1105
The Reef-  4100 Coastal Hwy  St Augustine, FL 32084
(904) 824-8008
The Tini Martini Bar- 24 Avenida Menendez  St Augustine, FL 32084
(904) 829-0928
Bar With No Name- 16 S Castillo Dr, St Augustine, FL ‎
(904) 826-1837
Meehan's  On Matanzas- 20 Avenida Menendez, St Augustine, FL ‎
(904) 810-1923
Hurricane Patty's- 69 Lewis Blvd  St Augustine, FL 32084
(904) 827-1822
Conch House- 57 Comares Ave  St Augustine, FL 32080
(904) 829-8646
Creekside Dinery- 160 Nix Boat Yard Rd  St Augustine, FL 32084
(904) 829-6113
Beachcomber- 2 A St  St Augustine, FL 32080
(904) 471-3744
Matanzas Inlet Restaurant-  8805 A1A S  St Augustine, FL 32080
(904) 461-6824