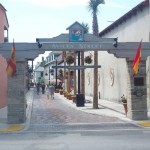 Even when it rains, St. Augustine is one of the most beautiful places I've ever laid eyes on. I was meeting a business associate for a quick lunch downtown and she suggested we eat at La Herencia Café. It is located on historic, picturesque Aviles Street. This street is a photographer's dream! It's dotted with eateries and shops and has wrought-iron tables lining the sidewalks that  just beg you to sit down, relax and be transported to another world.
We were in the middle of  a  sun shower, so we chose the window seat inside with a view of this magnificent street. What are you having I asked my friend?  "The Cuban with rice and beans," she said. "I'm having it with potato salad," I said. And so two locals are sitting in the window at La Herencia Café awaiting the best Cuban sandwich in St. Augustine. This sandwich is incredible and huge. We each ended up taking half of it home for another meal. The beans and rice here are phenomenal and the potato salad has just the right Cuban kick. The owner roasts the pork for this sandwich daily.  It is seasoned to perfection and simply mouthwatering. Even the bread for this Cuban is specifically made for it. I was told it is a Miami style sandwich.
I have never had breakfast here but  I have heard from other locals that it is so delicious that they were featured in a PBS special. I can't wait to have an opportunity to try this specific dish that PBS raved about –  The Guajiro Omelet. This breakfast dish is a combination of an omelet cooked to perfection sitting on top of toasted Cuban bread, topped with black beans, pork, salsa and cheese. No wonder this dish made television.
Whether you're stopping in for coffee and dessert, a delicious hot breakfast to start your day or the "locals favorite" Cuban sandwich, you won't be disappointed. Sit back, relax and enjoy the view.
4 Aviles Street
St. Augustine, FL 32084
ph: 904-829-9487