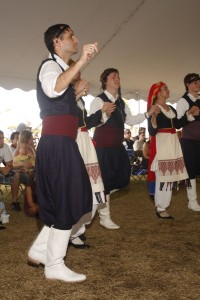 Greek Music and Dance – A wonderful Tradition Continues at the 17th Annual Greek Festival!!!
Greece is one of the few countries in the world where folk music and dance are as alive today as they were in ancient times. At the 17h Annual Greek Festival, October 10th – 12th, 2014, you can hear and see the stories of the islands, the mountains and the villages of Greece translated into music and dance.  Francis Field, 29 Castillo Drive, will be transformed into a virtual Greek village with all its vibrant sights and sounds.  Hosted by Holy Trinity Greek Orthodox Church, festival hours are Friday, from 4-9 p.m., Saturday, 11a.m. – 9 p.m. and Sunday, 12 – 5 p.m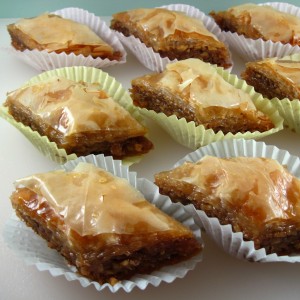 The festival is proud to present The Hellenic Band who will perform live all weekend in the main tent.  Interpreting the Greek culture through dance will be the Nisiotes,and Asteria Greek dancers.You can also learn the beautiful steps of Greek dance by participating in the free dance lessons.In addition to the great entertainment, plan to dine on delicious Greek foods, pastries, and beverages.  The parishioners of Holy Trinity Greek Orthodox Church have been busy preparing pans of mouthwatering pastitsio (macaroniwith a delicious meat sauce topped with a crema), and dolmathes (stuffed grape leaves).  The Grill will serve upsouvlaki (pork and chicken shish- kabobs), gyros and kid friendly fare .   The village will also have a Cafenio where you can enjoy steaming Greek coffee with your favorite Greek pastries from the bakery.   Stop by the Taverna for a classic glass of Greek wine or a cold beer.The Agora (or marketplace) will delight the shopper with jewelry, apparel, cookbooks, and art.   You can pick up all your hard to find Greek grocery items at the Bakaliko (Greek grocer).  Unique pastas, cheeses and coffees are some of the items that will be available. The villagebookstore will have a large selection of reading material on the Orthodox faith, icons and other unique items for purchase.    And if you are bringing the younger ones with you, stop by the Kids Center for games, rides and more!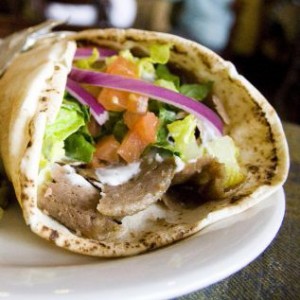 There is something for every age at the 16h Annual Greek Festival.Admission is $3.00 for adults and free for those 12 and under. Free admission for active military and their immediate family with ID.  For more information call (904) 829-0504 or visit www.stauggreekfest.com.Some of the food available includes:

Food is available A la Carte, Dinner Plate, or Combination
Dinner Plate includes Rice, Greek Salad and Bread
Combination Plate includes Pastitsio, Dolmathes, Spanakopita & Tiropita
Grilled LambSouvlaki –

 Pork or Chicken

Pastitso
Rizi (rice pilaf)
Tiropita
Spanakopita
Dolamathes
Greek Salad
Gyro Sandwiches – Meat or Veggie
Chicken Strips
Calamari
French Fries