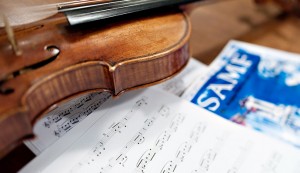 The  Eighth Annual St. Augustine Music Festival
This incredible classical music series of concerts is held in the beautiful Cathedral Basilica Church. This festival has some of the most talented musicians performing from around the globe.
Don't miss your chance to see and hear the Jacksonville Symphony Orchestra joined by internationally renowned artists presenting a variety of classical compositions.
The concerts take place over  two consecutive weekends, June 19-21 and June 26-28, 2014.
All concerts are free and start at 7:30 p.m. in the St. Augustine Cathedral Basilica. No tickets are required.

Schedule:
Week I
June 19 "Opening Night" SAMF Chamber Orchestra, Andrés Cárdenes; violin solo Antonio Vivaldi Violin Concertos from La Stravaganza • Concerto in e minor, Op. 4, No. 2 • Concerto in g minor, Op. 4, No. 6 • Concerto in D Major, Op. 4, No. 11 • Concerto in G Major, Op. 4, No. 12
Felix Mendelssohn • String Symphony No. 8 in D Major
June 20 "Summer Music" Stephen Robinson, Guitar Les Roettges, Flute Boyd Jones, Organ/Harpsichord
• Guitar Quintet No. 4 in D major, G. 448 Luigi Boccherini (1743-1805) • Grave assai: Fandango for guitar and harpsichord • Sonata "La Vibray" Op.2 Nr.2 for Flute and harpsichord Michel Blavet  (1700-1768) • Canonnade for solo harpsichord Claude Balbastre (1724-1799) • I Tempermenti Sonata for guitar and harpsichord Jürg Kindle (b.1960) • Imagine for solo guitar John Lennon (1940-1980) • God is Our Righteousness for guitar and organ Chris DeBlasio (1959-1993) • Elegie – Le Follet for solo flute Francois Donjon (1830-?) • Histoire du Tango for guitar and flute Astor Piazzolla (1921-1992) • Bangerang! For guitar and harpsichord Marek Pasieczny (b.1980)
June 21 "Grace and Beauty" Diaz Trio/Pena Trio Ludwig van Beethoven • String Trio in C Minor, Op. 9, No. 3
Johannes Brahms • String Sextet No. 1 in B-Flat Major, Op. 18
Week II
June 26 "Discovery" Louis Spohr • Double String Quartet No. 3 in E minor, Op. 87
Quartet I Quartet II Aurica Duca, Violin Jorge Avila, Violin Clinton Dewing, Violin Antonio Rincon, Violin Jorge Pena, Viola Colin Kiely, Viola Jin Pena, Cello Moisés Molina, Cello
Heinrich von Herzogenberg • Horn Trio in D Major, Op. 61 Eric Olson, Oboe Debra Sherrill-Ward, Horn Eugenio Urrutia-Borlando, Piano
Camille Saint-Saëns • Septet for Trumpet, two Violins, Viola, Cello, Bass and Piano Op.65 Julian Kaplan, Trumpet Jorge Avila, Violin I Aurica Duca, Violin II Jorge Pena, Viola Jin Pena, Cello Patrick Bilanchone, Bass Eugenio Urrutia-Borlando, Piano
June 27 "Piano Spectacular" Eugenio Urrutia–Borlando; Piano Johann Sebastian Bach • Goldberg Variations
June 28 "Mozart and More Mozart" SAMF Chamber Orchestra, Elisa Koljonen; violin solo • Wolfgang Amadeus Mozart – Violin Concerto No. 4 in D Major, K. 218 • Wolfgang Amadeus Mozart – Symphony No. 29 in A, K. 201
Foe more information or to watch the concerts streamed live, visit their website.