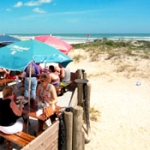 GOT KIDS?
We've got a place for you, the South Beach Grill is located at Crescent Beach out on the island. It is one of the few true beachfront restaurants in Saint Augustine – A two-story building overlooking the Atlantic Ocean with breathtaking views of the dunes, sea oats and the surf. It has a spot for your kids to play in the sand with pails and shovels, while you dine overlooking the water .
Kid friendly and "St Augustine local" approved.
Breakfast, lunch and dinner – the food here is consistently good.
On a recent morning we stopped here before heading off to kayak. We chose to sit out front at a picnic table overlooking the beach for breakfast. I had a delicious Southwestern omelette with peppers, onions, ham, cheese and salsa. It was served with home fries and a biscuit. My husband had the pancakes, bacon and fresh squeezed orange juice – a great meal for about $20.00 all while looking at the ocean. You have to love Saint Augustine
My brother visited recently and he had the Seafood Jambalaya there. It was very different and out of this world – we highly recommend it. Besides, they have a beautiful view and are known for having fresh fish and some gluten free dishes. I once ate an entire bucket of oysters at the bar all by myself as my husband and the bartender watched in disbelief. "I didn't eat the crackers",  I yelled out in my defense!
I have always had great service, good drinks and a beautiful view at South Beach. What more could a girl ask for?
45 Cubbedge Rd  St Augustine, FL 32080
(904) 471-8700