Salt Life is now open for lunch and dinner. We will update our information and reviews as we try new food items.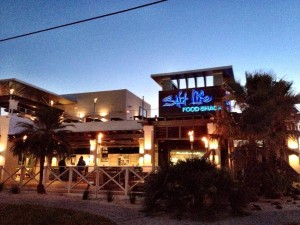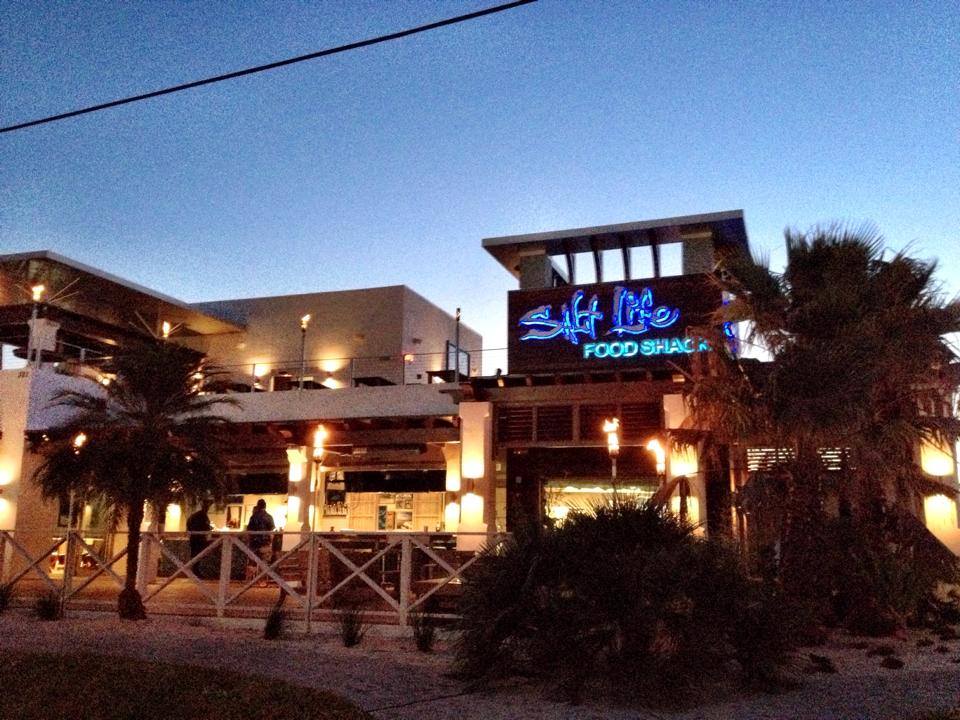 The new Salt Life Food Shack in St Augustine Beach, Florida is  "BEACHY KEEN."
St. Augustine has been waiting for this restaurant to open for a very long time and for good reason. The food is beyond fantastic! The location across the street from St. Augustine Beach Pier doesn't hurt either, nor do the great prices and fabulous views. From the roof top deck you have the best of both worlds; sunset on one side and the Atlantic ocean on the other.
Now that I have had the grand tour, I can see why they took a little longer to open. Perfection! The place is perfect. The decor is the signature Salt Life colors of Turquoise & watery blues mixed with a lot of Teak colored wood. It has Beach written all over it with a casual, relaxed, resort like feel. Salt Life is the perfect place to "Eat, Drink and Be Salty."
This will be a "Locals Favorite" in no time flat! The restaurant hosts two huge bars. One atop the rooftop deck and one on the ground floor. The bar on level one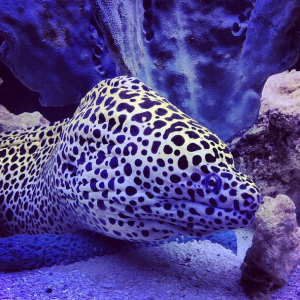 greets you as you walk in the door as does Alfred the Moray Eel in his 1300 gallon home.  In this incredible custom built fish tank featured on the hit show "Tanked," he will reside with his many fish friends. ( Alfred & friends will not be living in the new tank for the first few weeks of grand opening. They need to be sure a biological filter becomes established before introducing them.)
This fabulous bar area is half inside and half outside and so is the fish tank! How cool is that? They just open up these huge garage door type windows and "It's on!"  You're living the Salt Life. Rainy day, no worries, the bar is home to 17 TV's to watch your favorite game. They have a very large dining area on the ground floor too with all size tables and really comfortable seating. Salt Life is pet friendly on the lower outdoor patio, so your pooch won't be left out while your living the Salt Life.
The rooftop deck will probably become my second living room, maybe even my office. This is where I fell in love…
It has everything including an elevator to get you there, a cozy fire pit, gas lit tiki torches, a huge bar and a comfortable lounge area to hang out with a group of friends or meet a few new ones. There are nice wooden tables for dining or you can grab a bite at the bar. The view is incredible with the Atlantic on one side and the sunset on the other.  I felt like an Eagle on my perch up there overlooking it all. You can see all the activity below, volleyball games, kites soaring in the air and the waves crashing  and don't forget the sunset.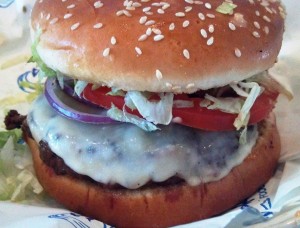 The biggest reason Salt Life Food Shack is so successful is the food. The Saint Augustine location will hold up that standard and share a very similar menu as the others. They serve up a great selection of apps, salads, tacos, sandwiches, bowls, fresh fish plates and sushi. Everything on the menu is under $20.00. You will find all of your Salt Life favorites on the St. Augustine menu like these:
Bahamian Conch Chowder– $3.99 for a cup.
Caliche's Poke bowl – $17.99 – Fresh Tuna seasoned with Caliche's secret marinade, served with steamed spinach over sticky rice. Finished with avocados, green onions and sesame seeds.
Shack Burger -$8.49 – A signature wood grilled burger served with lettuce, tomato, onion and Shack sauce.
Tropical Yardbird-$8.99 – Wood grilled  chicken breast topped with grilled pineapple and provolone, drizzled with maple-soy glaze and honey mustard, lettuce, tomato.
Shrimp Taco – $5.49 – Sautéed shrimp with bacon, onion and cilantro. Finished with Ensenada slaw, Pico and Mexican cheese.
Beach Boil – $18.99 – Shrimp, snow crab legs, sausage, corn, onions and potatoes  served in a seasoned bowl.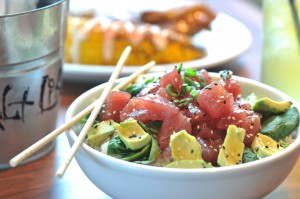 All of Salt Life's food is fresh and made in house. They are famous for there fresh ingredients and signature sauces. They will be serving up healthy delicious food at great prices at the beach 7 days a week. Salt Life has a full liquor license and 20 beers on tap. They will have Happy Hour specials Monday – Friday from 4-6:30 p.m. Tuesdays is "Sushi Tuesday" and Thursday is Oyster and Margarita Madness during happy hour. (Check out our happy hour section for details.)
If you are looking for a souvenir, they have a fantastic assortment of Salt Life  retail items including T shirts up to Double X.  You can pick up a key chain, decal, iPhone cover, towel, face shield or even a small cooler to take home with you as a reminder of  the Salty life.
There is no doubt in my mind that Salt Life will be "Local Approved" in no time. It will be the hottest spot in town to cool off with an ocean breeze and a cold drink. If you check it out, leave us a comment and let us know what you think. 
Salt Life offers free Valet parking every day and the rooftop deck is handicap accessible via an elevator.
Hours of operation:
Monday – Thursday 11:00 a.m. – 11:00 p.m.
Friday –  11:00 a.m. – 2:00 a.m.
Saturday – 11:00 a.m. – 11:00 p.m.
Sunday 11:00 a.m. – 11:00 p.m.
Salt Life Food Shack
Phone: 904-217-3256
321 A1A Beach Blvd.
St. Augustine Beach, FL 32080
 Video from  Show "TANKED" on the Aquarium at the new Salt Life  Food Shack in St Augustine
MORE PICTURES FROM THE SALT LIFE FOOD SHACK  ST AUGUSTINE