The Locals' Guide to Saint Augustine may be compensated through the links in the post below, but the opinions are our own.
Ripley's Red Trains Nights of Lights Tours
Get your tickets early! Click here to buy.
Looking to get into the holiday spirit? The Ripley's Red Train is a great way to do just that. They offer tours every night of the week. We recently took the ride and had such a great time on board! The Red Train is a fantastic way to see St. Augustine's Nights of Lights. The ride is complete with Christmas carols, a bit of history, candy canes and best of all your magic glasses!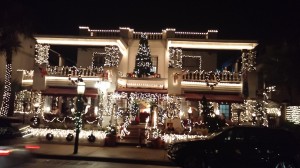 What are magic glasses you ask? We can't tell you or we'll ruin the surprise. All I can say is that my husband said they turned me into a little kid. I have had them in my purse ever since I got them and love looking at any light I can through them. Car headlights are my favorite.
What you can expect on the trolley is a great festive atmosphere. The night we were on we came across another train filled with boy scouts who were in the holiday spirit. We had a little friendly competition on which trolley could have more fun and yell out Merry Christmas to the people in the plaza the loudest. They won but everyone was surely having a great time with all of us on board and off.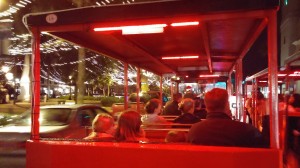 This is a great tour for kids or adults. It surely will bring the kid out in everyone.
If you go on Friday and Saturday nights through December 24th, Ripley's
offers free holiday movies, balloon twisting, face painting, a giant marshmallow roasting pit, Mrs. Clause will be reading stories,  gifts from Santa  and snow.  YES, WE SAID SNOW!!!!!!
 This year Ripley's is offering a new and much needed VIP Tour – Get your tickets quick, this sells out fast.
No lines to wait in on this new tour. The Red Train tours depart from Ripley's
Believe It or Not! from 6 – 8 p.m. Sunday thru Thursday and 6 – 10
p.m. on Friday and Saturday nights through January 5th.
19 San Marco Avenue
Saint Augustine, Florida
Page sponsored by Walter Drake a thermoformed packaging company