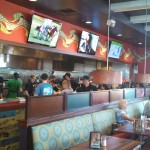 Everyone has been asking us what we think of the new Mellow Mushroom in Saint Augustine, Florida.  It has become a "Locals Favorite" for sure.
The atmosphere here is colorful, creative and funky with an industrial feel. It has a good vibe, a huge bar and plenty of TVs to watch sports. There are tables indoors and out, in all shapes and sizes, to fit even the largest of families or groups of friends. It seemed to be kid friendly and there were plenty of little ones in line waiting for a table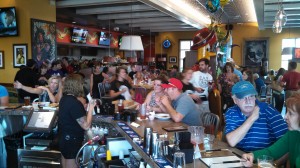 We ended up sitting at the bar. I actually prefer to eat at a bar rather than a table. Our bartender's name was Jake. Jake was very informative and shared a lot of information with us and recommendations in helping us choose our drinks and our dinner. My husband ended up ordering an Orange Blossom Pilsner draft from Greenville, South Carolina. We counted roughly 48 draft beers and 26 different bottles, most of which were craft beers from local or small regional breweries. They even carry St. Augustine's own " Mile Marker" . Jake suggested I might like one of their signature drinks, Field of Dreams.  This delicious artesian cocktail consisted of a blend of rye whiskey, their own fresh sour mix and topped with grapefruit bitters. They rim the highball glass with fennel infused crystallized sugar and it's garnished with a rosemary sprig. This drink was fantastic! It was very unique in flavor. My second drink, however, was the Orange Blossom Pilsner draft. The signature cocktail was what we  at the Locals' Guide  call " a corporate pour." At nine dollars a drink, I couldn't justify a second one nor could  I justify the calories.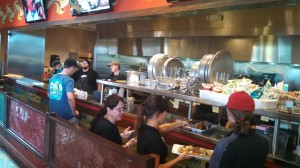 We decided to order the Mellowterranean. This pizza was phenomenal! We shared a medium and we were stuffed. Here is how their menu describes it:
Olive oil and garlic base with all natural grilled chicken, onions, roasted red peppers, black olives, chives, feta and mozzarella cheeses with a side of tzatziki sauce.
The pizzas here are not your typical Italian New York pizza, which I happen to love. They are handcrafted stone baked works of art. The crust on these pizzas are actually made with unbleached flour and spring water. It is then brushed with an incredibly delicious blend of butter and garlic and some other secret flavor  I couldn't figure out. They also make a gluten-free pizza. Jake told us that whoever makes the gluten-free pizza actually will deliver it to your table, so there is no risk of cross contamination. He also informed us that if you order a medium or large pizza, you can get a half and half, so you can try two of their signature pizzas. We wished we had done this and next time we definitely will.
The Mellow Mushroom also serves up soup, salad, calzones and hoagies. Next time I'm in I want to try a "build your own salad". You can do that with pizza too. You start with a basic and you can add a variety of topics or add-ins to have it anyway you want. We asked several of the people around us if they were enjoying their meals and it was unanimous, everyone had loved what they ordered.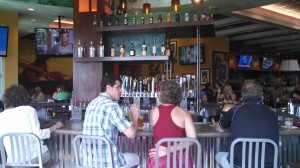 We were stuffed after eating pizza, but since we were reviewing the place we thought we should try dessert. We ordered the key lime pie. I have to say this pie is an imposter… It is not the key lime pie that Florida is famous for. This pie might fly in Georgia or the Carolinas or somewhere up north for that matter, but it won't fly here in Florida. We didn't even eat very much of it.  If I were you, I would try a different dessert like the brownie sundae.
If you're going, expect a wait.  They opened on July 22nd 2013 and everyone is dying to try their pizza. Had we not found a seat at the bar, our wait time at 5 o'clock on Saturday night would have been one hour. The other thing I recommend is that you look for parking on the street on your way to the restaurant. The parking lot is very small and tight and hard to maneuver around.
I would have to say this place will probably be a locals favorite in no time. The pizza is fantastic, the atmosphere is fun and they have an extensive selection of beers, which is a must when you're eating pizza. We will keep you posted and update our review each time we go back.
Now if only they would serve a sampler….
Update to the Review- August 7th 2013
We came back to try it again and it was just as fantastic as it was before! Tonight I tried a few new beers, my husband stuck to the Orange Blossom Pilsner. I had a Mile Marker Blonde Ale from our local brew house and a Intuition  Jon Boat Coastal Ale from Jacksonville, FL
I loved them both but the Blonde was the favorite. As for pizza we had  a half & half…
 Red Skin Potato Pie
Olive oil and garlic base with sliced roasted red potatoes, Apple wood smoked bacon, caramelized onions, cheddar and mozzarella cheeses. Garnished with chives then drizzled with sour cream and spicy ranch dressing.
Philosopher's Pie
Olive oil and garlic base, all natural grilled steak, Portobello mushrooms, artichoke hearts, Kalamata olives, Provolone, feta and mozzarella cheeses.
They were both incredible. I am half Italian so the Philosophers Pie was a big hit for me. The olives were huge and the artichoke hearts were incredibly flavorful. My husband is 100% Irish so of course he loved the Red Skin Potato Pie. It was a combination of smoky from the bacon and a little spicy from the ranch. Delicious.
Again we sat at the bar. Jake and Sunshyne ( yup that's how she spells it, I checked ) waited on us. Jake was once again a huge help in picking out our pizza and they both helped me choose some great beers. There are so many to choose from.
Overall it was a great experience. The pizza was awesome the beer was cold and the service was terrific. We'll  be back! If  it's still great next time I'm gonna have to stamp them "LOCAL APPROVED"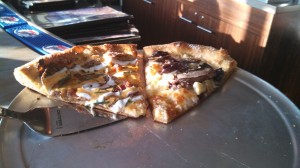 410  Anastasia  Blvd.,
Saint Augustine, FL 32080
Phone: (904) 826-4040
10:30 a.m. to 2:00 a.m.