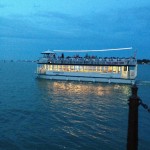 One of my favorite things to do in St. Augustine, Florida is to hop aboard The Victory III Scenic Cruise Line. I love to go with my husband at sunset and take all of our friends and family as well. We have even celebrated my sister Christine's birthday aboard eating LuLi's Cupcakes.
The one hour and 15 minute tour is fun, informative and very relaxing.  Not only do you get to enjoy the beautiful scenery and gentle breezes aboard this boat  but you get to learn some interesting  historic facts about our city. The captain narrates the tour as he takes you under the beautiful Bridge of Lions, out past the Fort  and up the Bay. It's a wonderful way to learn about our fabulous city but you will also have an opportunity to capture some great photos that you can't get on land.
I typically go for the sunset cruise, mostly because we work. I'm sure that any time of the day you go, you will probably get to see some Dolphins and other wildlife. The cruise line has an upper and lower deck. I like the upper deck, but the lower is great if you want to ride at the front of the boat or stay out of the sun. There is a snack bar on board where you can purchase beer, wine, soda, water and my favorite… champagne! (My favorite is really bourbon but they don't sell it on the cruise.) You can also get chips and crackers there as well.
I just love how I feel out on this boat. It is a very relaxed casual tour. We have even brought our dog Marley out on this trip. It is pet friendly for "well-behaved dogs." She loved her boat ride. She quickly learned there was a snack bar downstairs and figured out if she barked once, I would purchase goldfish crackers  to keep her quiet. They do ask your dog be on a leash at all times.
All in all I would say this is a great trip for your family. It's reasonably priced  and they've been doing it for over 100 years.
| | |
| --- | --- |
| Adults | $16.75 |
| Junior (13-18) | $ 9.75 |
| Child (4-12) | $ 7.75 |
| Seniors (60+) | $13.75 |
Apr 1
thru Oct. 15

11:00 am

1:00 pm

2:45pm

4:30pm

6:45pm

 

Oct 16 thru Jan 1

 

 

Feb 2 thru Mar 31

 

 
I do advise you check their website. They will let you know if there are any big groups out that day and they have a discount coupon you can print.
The scenic cruise is also half price for locals. That makes it a great trip to take guests out on and welcome them to our beautiful city.
Enjoy!
The cruise departs daily from St. Augustine Municipal Marina
http://www.scenic-cruise.com/