Hi, I'm Marley Burke, The Locals' Guide's  "Local Dog."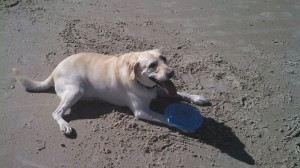 Although I have to be honest and say my favorite place in St. Augustine is the beach, I also like dining out on occasion.
Whether you are a tourist bringing your dog along on vacation, or a local who just can't resist your pups sad eyes when you leave the house without him… we have plenty of restaurants in town who love dogs just as much as you do.
Here are some great spots for you and your dog to get a bite to eat.. If you're in the historic downtown area there are few great places on St. George Street that are pet friendly. Keep in mind that at all of the pet friendly restaurants you will be dining outside. On St. George Street, you will find the Chianti Room and the Florida Cracker. The Florida cracker usually has some good music outside and has a good vibe to it. The Chianti room is known for its great happy hour and reasonable prices.
Just off St. George Street, but still in historic downtown, you will find the Barley Republic – an Irish pub and restaurant with a good selection of beers and a chance to hear some good Irish music. If you're an Irish Terrier or an Irish Water Spaniel, this place will be right up your alley. If barbecues your thing and what dog doesn't love pulled pork, then try MoJo's barbecue. The barbecue here is fantastic and it's definitely a local favorite for dogs and humans alike. If you're looking to dine a little fancy, try La Pentola, a great place to go after a bath. They have a beautiful courtyard with fountains and pretty flowers to look at. Make sure you get a doggie bag from here – the food is amazing and they have an extensive wine selection.  Be sure to check out the review.
If you're looking to smell the salt air, make sure you check out some of the dog friendly spots along the Bay. Meehan's Irish Pub is a great place to take a dog for a pint and a view of the water. You'll find many locals hanging out there. Another wonderful spot to take a dog and have a drink, an appetizer and listen to some great local music is O.C. White's. Here you will find a beautiful outdoor atmosphere. It's one of my favorite spots for live entertainment in the springtime. If you get chilly at night they have some incredible outdoor fireplaces to keep you warm and the smell of Jasmine fills the air here on a warm spring night. Some of the tables are underneath a Jasmine covered pergola that is a sight to behold when it's blooming. Harry's has a beautiful courtyard, live entertainment and great food at reasonable prices. Everybody is hooked on Harry's. If you want to grab an iced coffee and a dessert, check out the Gourmet Hut.
Heading over to Vilano beach, you have the KingFish Grill. Beautiful views of the Bay can be found here. Any dog would love to sit out here and watch the world go by. Right on Route 1, not far from town you will find Jaybird's restaurant. They have a pretty outdoor patio and they have even built a waterfall out there. The food is delicious and reasonably priced. They have live music several nights a week and they serve breakfast, lunch and dinner. Considering I'm a yellow lab, this waterfall is a bit of a tease for me since I'm not allowed to swim in it. I love listening to the water trickling down the falls though. Also off Route 1 you will find a favorite place of the "Saint Augustine Locals," Hurricane Patty's. Water views and views of the marina is what you will find here along with some terrific area bands. You might also see some "local cats." The lucky critters get to roam free and sleep on boats in the marina. Oh how I dream of chasing them down the dock.
Now it's back to the beach, oh how I love the beach. I love digging holes in the sand, flipping my Frisbee between my legs and catching it and swimming with my tennis  ball and cooling-off on a hot day. I like to eat here too. A sandwich, some water and shade and this becomes my favorite place in town. Sometimes we share a chicken Parmesan sub from Romano's Pizza. They have really good subs and they're huge. You can also grab some picnic foods like fried chicken at Publix or a Subway in the same plaza. Going to the beach is like going to Mexico. I warn you, Don't Drink the Water!!!!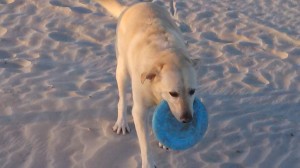 Café 11 out at the beach has really good food and they love well behaved dogs. They do a delicious brunch on the weekends. This is a real "Locals" favorite. Hurricane Grill and Wings is a fun spot to grab some wings but I'm not allowed to have chicken bones. The music is nice though and everyone looks happy there. The Wildfower Café is nice too.
 Here is a letter I received from a dog named Pirate.
Pirate says:
Marley,
So my people parents take me out to lunch all the time to the Wildflower Café, they bring me a bowl of water as soon as I arrive. We relax in the shade under the awning and my dad slips me bacon from his giant BLT and sometimes mom sneaks me a shrimp from her shrimp salad. This place is always nice to me and my mom and dad really enjoy the lunch menu and sitting outside with me.
Pirate –  (one adorable toy golden doodle!)
I love going for rides so I get very excited to take a drive down to Matanzas's Inlet Restaurant. It's about a 15 minute ride from the beach, 25 from town. Oh boy, it's worth it. The drive is so scenic and I can smell the salt water in the air. Right before the restaurant are two parks, one on the beach side and one on the inlet side. The inlet side is a great place to take a walk and take a dip on a hot day. (All the kids want to pet me there and tell me I'm cute.)
The restaurant has good food and the most beautiful sunsets you will ever see. This is nice  place to have lunch or
dinner and stare  at the water. This place makes you feel like you're on a Caribbean island. It's a great place to spend a dog day afternoon.
Contributed by Marley Burke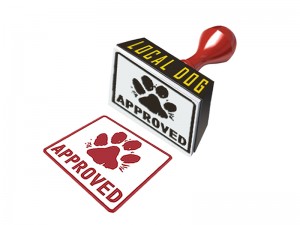 The Locals' Guide to Saint Augustine's "Local Dog"
Pet Friendly Restaurants that will make your tail wag:
Café 11
501 A1A Beach Blvd  St Augustine, FL 32080
(904) 460-9311
Barley Republic
48 Spanish St  St Augustine, FL 32084
(904) 547-2023
Chianti Room
60 Charlotte St, St Augustine, FL 32084
(904) 825-4100
Florida Cracker
81 St George St  St Augustine, FL 32084
(904) 829-0397
Harry's  (Read Review)
46 Avenida Menendez  St Augustine, FL 32084
(904) 824-7765
Hurricane Patty's
69 Lewis Blvd, St Augustine, FL ‎
Hurricane Grille
4255 S. A1A 13 & 14  St Augustine, FL 32080
(904) 471-7120
JayBirds
2600 N Ponce De Leon Blvd  St Augustine, FL 32084
(904) 429-7153
Kingfish Grill
252 Yacht Club Dr  St Augustine, FL 32084
(904) 824-2111
La Pentola      (Read Review)
58 Charlotte St  St Augustine, FL 32084
(904) 824-3282
MoJo's Barbecue
5 Cordova St, St Augustine, FL
(904) 342-5264
Matanzas Inlet
8805 A1A S, St Augustine, FL ‎
(904) 461-6824
Salt Life Food Shack    (Read Review)
Phone: 904-217-3256321 A1A Beach Blvd. St. Augustine Beach, FL 32080
O.C. White's
118 Avenida Menendez  St Augustine, FL 32084
(904) 824-0808
Sea Oats Caffe
1075 A1A Beach Blvd, St Augustine, FL 32080
Publix Plaza at the Beach
Wildflower Café
4320 A1a S # 9  St Augustine, FL 32080
 (904) 471-2691