I'm Marley Burke, The Local's Guide's "Local Dog."  Some days I just get tired of  going for a boring old walk or another day of fishing.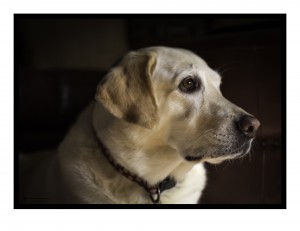 There are lots of fun things for me to do in Saint Augustine, FL. On the days I feel like drifting at sea, I go for a ride on the Scenic Cruise. (Read Review). You can purchase beer & wine on board but I lean toward a bottle of water and some goldfish crackers for treats. It is a lovely, relaxing, narrated scenic cruise around the bay area. You have to keep your leash on and they only allow well behaved dogs, so no barking on board. I don't mind, I have plenty of time to bark at the dog across the street.
I have seen some other dogs kayaking and one on a Hobie Cat at Anastasia Water Sports (Read Review) it looks like a lot of fun but I haven't  tried it.  The beach is my favorite place. Dogs are allowed on almost all beaches on a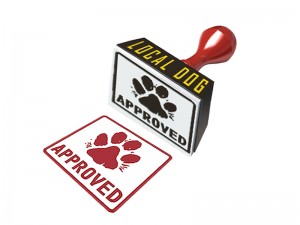 leash except for Anastasia State Park.  (Beach Info)
If you like history, a great spot to walk around is the Colonial Quarter on St. George Street. They have a lot of reenactments and demonstrations there.
I like to go to the Fountain of Youth and check out the peacocks. They actually beg for peanuts. What self respecting dog would beg for a tiny peanut? They seem to get a lot of folks to feed them though. The grounds are beautiful to walk around and kids love it too.  I drank the water and people still say I look like a puppy. I'm really 8 years old.  I believe it really works. (Read about The Fountain of Youth here)
If you like music, the summer concerts at the Plaza and Pier are pet friendly. Bring a picnic a chair and some doggie treats.
Some days I tag along for a wine tasting at San Sebastian Winery. People love the local wine here. It is a very popular attraction. You can't be really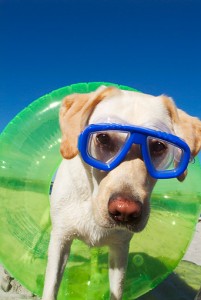 big though. I saw a Great Dane get asked to leave once but he may have had one too many.
If you love the water (it must be the Lab in me)  and nature like I do, check out St. Augustine Eco Tours. Join the Captain  for a professionally guided 2-hour sailing excursion in the estuary. You'll board the ultra stable 27-foot Stiletto catamaran. You can see all kinds of wildlife on this adventure.  How about Dolphins? I love to watch the dolphins. I wish I could swim that fast. St. Augustine Eco Tours also has an educational Dolphin Tour. This trip takes place on a 6 passenger boat and  combines dolphin and bird watching with marine ecology, historic sights, and an amazing boat ride. A great way to spend a dog day afternoon.
A big day out on the water can make a dog really hungry. Check out our list of Pet Friendly Restaurants.
Marley's words of wisdom:
If you're a cat, stay home!
If you aren't part Lab you may want to wear a life jacket. The current can be really strong here even for me.
Don't swim in the Intracoastal.  The oysters are everywhere and will cut your paws.
Have your parents bring you some shade to the beach. Florida sun is too hot with no shade.
Nap often.
Most importantly, don't drink the ocean water at the beach. Trust me.
I hope you enjoy your stay & all these fun things keep your tail waggin'.
Maybe I'll see you at the beach.
Marley