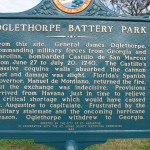 The newest addition to one of the City's historical military sites occurred on June 30, 2013.  On that date, three replica cannons were unveiled in Oglethorpe Battery Park. This was the site of a three gun battery used by Georgia's Colonial Governor, Gen James Oglethorpe, in his attempt to force the surrender of the Castillo de San Marcos and the City itself in 1740.  His unsuccessful siege lasted from June 27 to July 20 and was lifted by a Spanish fleet bringing supplies to the besieged City.
The cannons are aligned on a 282 degree heading, aimed at the Castillo which is not presently visible from the park.  It lies across the Bay about three quarters of a mile away, well within the effective range of the guns. Contributions for the cannons were raised by the 450th Military Commemoration Committee and the local home owners association (SANDS).  The City provided the concrete pads and gun carriages.
The Park is on the corner of Arredondo Ave and Oglethorpe Blvd.  From Anastasia Blvd turn North at the Anastasia Inn onto Arredondo Ave and go north four blocks.  The Park will be on your right and the battery on its northwest corner.