Mumford & Sons, Gentlemen of the Road Tour Stopover.
 Sept 13th -14th
Francis Field
Friday's : Gates open at 4:00p.m.-
Saturday Gates open at 1:00 p.m.
Official lineups and set times for the St. Augustine Stopover
Friday
4:00 Gates Open
6:00 Willy Mason
6:50 Thao & The Get Down Stay Down
7:55 The Walkmen
9:15 Edward Sharpe & The Magnetic ZerosSaturday
1:00 Gates Open
1:45 Bear's Den
2:35 Those Darlins
3:25 Half Moon Run
4:20 Justin Townes Earle
5:25 The Vaccines
6:40 FUN.
8:00 Mumford & Sons
9:55 Yacht Club DJs
It's going to be an exciting weekend in Saint Augustine, Florida. The two-day concert event, will be bringing 25,000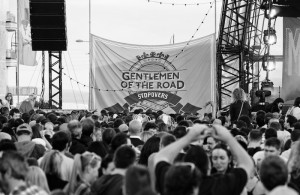 people to our beautiful historic city. The latest news is that the city is trying to put together a satellite parking location at the San Augustine airport. They are also working out the logistics for at least five shuttle routes to move concertgoers and locals  throughout the city. The proposed shuttle routes would be:
St Augustine Airport parking lot to Francis Field
Downtown to St Augustine Beach
Downtown to Crescent Beach/ SR 206
Downtown to World Golf Village
Downtown to SR 16
The shuttles run all day until 3 AM in the morning. Shuttle buses will run every 15 to 30 minutes. The cost for a two day shuttle pass will be $ 30.00 There is also a bike plan proposed. Whether you are visitor or a local there will be designated bike valet areas to Park your bike. There will be some road closures on the days of the event. Orange Street and Castillo will be closed to all traffic. If you are resident you will also need identification to get into several neighborhoods north and south of Francis Field.
Lawn chairs will not be permitted in Francis Field. You are allowed to bring a towel to sit on. You are also allowed to bring a stroller if need be, but as the police chief said, "you better have a baby in it."
These Items are allowed in the concert area:
Sunscreen (in non-metal and non-aerosol containers)
Small backpacks
Purses
Strollers and essential items for childcare needs
One (1) sealed bottled of water per person
Photo proof of age (required for sale of alcohol)
REMEMBER: All patrons and their belongings are subject to search and prohibited items will be removed at the discretion of the security staff. These items are subject to change at anytime and at the discretion of the safety staff.
These Items Will Not Be Allowed In:
Weapons
Food & Drink (One (1) sealed bottled of water per person is allowed)
Alcohol
Illegal substances of any kind
Blankets
Umbrellas
Coolers
Lawn chairs
Lasers
Glow sticks
Stickers
Silly string
Confetti
Glitter
Spray paint
Pets (Service dogs will be permitted)
Glass containers and metal aerosol cans, including sunscreen in aerosol cans
Scooters or personal motorized vehicles
Audio or video recording devices
Cameras with detachable lenses
No unauthorized vendors will be permitted
No unauthorized solicitations, handbills, sampling, giveaways.
Patrons With Mobility Limitations
The festival is held outdoors in a park.  There will be a lot of natural terrain to travel over and if it rains it could become muddy.
Wheelchairs, power wheelchairs and small three or four-wheeled scooters are allowed in the festival.
Service Animals
Pets are NOT allowed at the festival however service animals, which are trained to provide assistance to a patron with a disability, ar
Special Dietary Needs
If a patron has a special dietary restriction, those items will be allowed onto festival grounds if accompanied by a doctor's note.
Any medically necessary medicine and materials must be in the name of the patron.  Your ID will be matched with the label on the items brought to the festival.  Please dispose of any medical waste and syringes at the First Aid stations found around the festival grounds. Please do not dispose of them in trash bins.
Concertgoers will be able to come and go in and out of the concert on both days. This is wonderful news. Between this and the shuttle service those attending the concert will be able to visit our beautiful beaches and our many restaurants and bars in the historic downtown area. Many bars and restaurants will be joining in the festivities and having special Mumford and Sons promotional events.
We will continue to update this page for concertgoers and locals too. If you are a local area business and want to provide information to concert goers feel free to email us at info@locasguidesa.com
Mumford and Son's has chosen St. Augustine because we are a very special, historic city. We encourage you to spend some extra time here exploring all we have to offer. You will find local reviews for restaurants and attractions, parking information, information on our beaches and anything else to make your trip more enjoyable on this website. Please feel free to use our ask a local feature to ask any questions you may have about our beautiful city.
Mumford and Son's felt that St. Augustine fit in with their mission and their vision for their stopover tour. They wanted to leave a special legacy footprint on the oldest city in the nation. The locals here in St. Augustine have a vision too, we want you to fall in love with our history, architecture, and people. We want you to come back again and again and make this place your home.