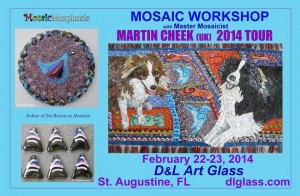 Mosaic Workshop with Martin Cheek (for beginners & experienced)
We are very excited to have internationally renowned mosaic artist, MARTIN CHEEK (UK) come to D & L Art Glass to teach a course on Feb. 22-23, 2014.
This course aims to provide an opportunity for those who are new to the wonderful craft of mosaic making to learn the basic skills and for those who are experienced, to further develop their personal style and creativity.
Participants will design and work on a mosaic 12″ x 12″ or 12″ x 16″ in area, using a combination of traditional glass, millefiore and Martin's handmade glass fusions.
This course includes a combination of informative lectures including the history and manufacture of millefiore; Roman mosaic techniques; Martin's fusing techniques and creative process. He will give demonstrations and individual help to ensure you go home fully inspired and equipped to continue to make mosaics at home.
When: Saturday & Sunday, Feb.22-23, 2014.
Time: 10 am – 4:30pm
Where: D & L Art Glass 107 Allgood Cir. #6, St. Augustine, FL
Cost: $ 240 + $100 added for materials
Includes: Priceless instruction by the Mosaic Maestro, substrate (12×12 or 12×16), glue, glass to cover substrate, some millefiore to tickle your fancy, and lunch.
Martin's handmade glass fusions will be available at an extra cost. You may also commission a fusion from Martin made especially for you. Simply send him an outline of your design. Check out his Facebook page and website for more details.
Please note: Martin's fusions are works of art and are priced accordingly!
Deposit required to reserve a space. Hurry, limited seating! 904-827-1415