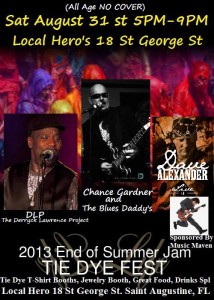 This event sounds like so much fun and a great way to end the summer. The Locals' Guide will be there for sure. Great musicians playing Funk, Blues and Reggae.
 "The 2nd Annual  Tie Dye Music Fest" at Local Hero's Café
 Saturday August 31st 2013 from 5pm-9pm
 Sponsored by Concept Entertainment Inc., Music Maven and the good people at Local Hero's Café.
This is a great opportunity to hear some of the areas fantastic musicians. Featured lineup will include:
 Derryck Lawrence and his band "DLP"- The Derryck Lawrence Project, Chance Gardner and The Blues Daddy's and David Alexander.
 This year's theme is Tie Dye T-Shirts and Dresses with a throwback to the 60's and 70's. That's right, pull out your bell bottoms and those platforms shoes. If you have nothing to wear you can buy something there. There will be a Tie Dye Clothing and Jewelry Booth. All ages are welcome at this event featuring great music, good food and drink specials!
So bring your cameras, come meet your hippy friends and enjoy this 2013 End of Summer Tie Dye Music Fest Jam.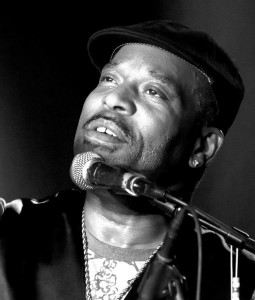 Derryck Lawrence
Local Hero's Café is located at 18 Saint George Street, Saint Augustine, FL.