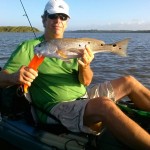 Life's  for Livin'-
Hey Smooch do you want to go kayak fishing? Heck yeah…NO… Kind of… Yes but I'm scared.
Kayak fishing! It sounds exciting and scary at the same time. I love to fish and I love to kayak,  put them together and how could that be scary. Well, there is the casting with a hook on the line, the fact that a mullet could jump into my kayak and I scream so much  I tip myself over and alligators.
Okay I'll go!
So my husband plans the trip with Bart from Action Kayak Adventures, he is local here in St. Augustine Florida. On the particular day we're going Bart says it's best to leave around 4:30 in the afternoon.  Bart says all you need to bring is sunscreen and  a snack if we want one, he provides everything else, kayaks, life vests, poles and bait.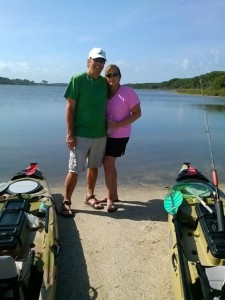 We meet him at 4:30 and he is there as promised with our kayaks all decked out and all the gear we need.  He gives us a brief  lesson  on what we need to know to make the best of our experience, and away we go. The kayaks are some of the most comfortable and high end that I have been in here in St. Augustine. If you've ever spent three or four hours in a kayak you  know how important that is. This guy definitely takes great care in his business. We kayak about a mile at a leisurely pace enjoying the scenic views and reach our first fishing spot. Bart baits up my husband's hook and sends him to the open water area and ties up to my kayak against the shoreline. He baits my hook,  casts my line and gives me a lesson on redfish behavior. I want to know everything.  I'm going to pick his brain on every bit of information he has on how to catch a Red Drum. Mullet are jumping every where…confusing my brain and scaring me as they leap and splash all around my Kayak. Is that a Red Fish, is that one?
"I GOT ONE"!
My husband Yells to us that he has hooked a Red!!!!  The Red takes him for a ride, turns his kayak around and begins his fight. I watched from the shore, fishing from my own kayak. My husband had the time of his life with his redfish. It was a beautiful redfish,  lots of spots and he was a keeper. We had him for lunch the next day  on the half shell.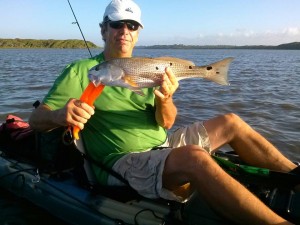 We continued fishing and Bart continued sharing his wisdom with me when I asked him a perplexing question. Bart, why did that turtle just swim by and keep his head out of the water the whole time?
Tracey.. That was a baby alligator!  So my trip had just turned  to adrenaline producing  in the blink of an eye. Come on guys let's get a new spot  says Bart and we began to paddle to a new fishing  hole. On our way we paddled through an area with a few more gators. At this point I informed Bart that if an alligator jumped into my kayak I was going to beat him(Bart that is) to death with my paddle. He then informed me that first I should probably smack the alligator. Once again Bart was thinking of me and wanted me to have a great experience.
It was a wonderful experience! The adrenaline from the gator,( they really are harmless and just want to keep their distance), catching fish,  learning something new and kayaking in this beautiful area was above and beyond my expectations. I am so glad I did it and I can't wait to do it again. Next time my husband asks me, " honey do you want to go  kayak fishing?" My answer will be" Hell yeah" without any hesitation. My only question will be, can Bart take us?
You can find Bart at Action Kayak Adventures-
www.actionkayakadventures.com   1-904-325-0344