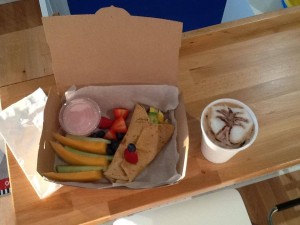 Sorry folks they have closed.
Got kids? We've found the perfect place to take them. Island Mama Java! The Locals' Guide to Saint Augustine predicts they will be wildly successful and "local approved" in no time flat!
I personally will vouch for the cappuccino, it's delicious and made perfectly. I took mine with a sprinkle of cinnamon on top.  Island Mama Java is just what St. Augustine needed. It's perfect for children, moms, dads and grandma & grandpa too. Their "stay and play concept" seems to be very popular with the children. The day I visited they were all having a great time with big smiles on their faces. It's a great spot to enjoy a cup of joe while your child gets to play with some fun toys and other kids.
It's a coffeehouse and a café. All of their coffee and espresso is organic and they use local roasters, such as Sweetwater in Gainesville, Florida, and Martin in Jacksonville, Florida. They have a variety of other drinks to choose from including smoothies that look delicious. They serve breakfast and lunch and each day they have a different combination to put in your lunchbox. A breakfast box goes for $6.50 and a lunchbox goes for $8.00. You can get an adorable kids' box that includes your choice of a grilled cheese sandwich, a peanut butter and jelly, or ham and cheese. They arrange it  into a cute little snail with marshmallow antennas for $5.00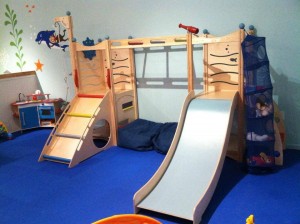 They really cater to kids age 6 and under. The great thing about this place is you can bring yourself and your child and meet new people, or come with a friend for a play date. They have several different play areas set up with a variety of unique and fun toys and an indoor Cedar playground. They have an outdoor deck , so you can sit outside on beautiful days and visit with a friend.
It is owned and operated by Sommer Escamilla & Morgan Robinson. They seem to be really great people with the best of  intentions in mind. They are putting together some great programs and classes. Nicole from Anastasia Libraries outreach program is doing a free storytelling session on Monday, Tuesday & Thursday at 9:15 AM. They have also started a very successful program called music makers. It's a music and movement class for babies and toddlers, taught by a well-known local musician. Here your child has an opportunity to play instruments and dance along to the music.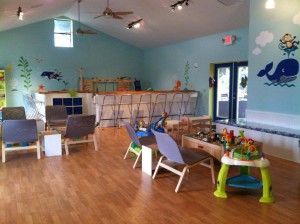 This has a class fee of $10.00. They have recently started a baby sign language class. This class takes place on Thursdays from 3:30 to 4:30 and has a fee of $10 per class. They are also starting a book club which I think is a fantastic idea. These meetings will be for adults only and will be a great place to meet new friends.
Island Mama Java is also a great venue to have a party. They will host birthday parties on Saturday and Sunday from 2 to 4pm. The space can be rented for $100 or $150 if you would like the café open for coffee and food. They can also do some catering for you. It's a great spot to have a baby shower where children can attend, or any other private event that's kid friendly.
So let's wrap it up. Island Mama Java has delicious organic coffee, espresso and cappuccino. They serve healthy food with lots of organic ingredients and even some gluten-free breads. They do yummy smoothies and have fabulous organic fruit drinks. They have wonderful baked goods for breakfast and very creative and healthy sandwich boxes for lunch. They cater to children and went all out on the selection of toys they have to keep them entertained. This place is going to be a hit, I just know it.
St. Augustine needed another kid friendly place. Go check them out and tell them the Locals' Guide sent you. And FYI, they have a BOGO on the back of the Winn-Dixie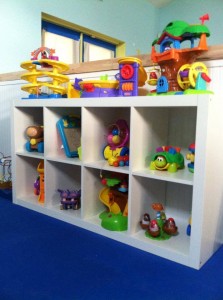 receipts. That's your local tip of the day.
Hours

Mon – Fri: 7:00 am – 3:00 pm

Sat – Sun: 7:00 am – 1:00 pm
Located across the street from the Oasis Restaurant on the Island
4085 South A1A
Saint Augustine Beach, Florida 32080
904-679-5266
You can find their class schedule on their Facebook page, so be sure to like it. https://www.facebook.com/islandmama