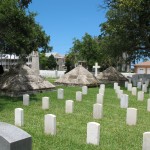 Our "Historic Military Site" Contributor Harry Metz has shared some great "local" insight about our southern bayfront. This is great information to read if you are headed down to see the Saint Augustine National Cemetery.  
Take a drive down Marine Street south of the Bridge of Lions along the new (2013) sea wall. The wall has been extended twelve feet into the Bay to protect the historic coquina wall built in the 1830's and offer better protection from flooding.  As you make the right and then a left turn you are looking at the St. Francis Barracks, now the  Florida National Guard Headquarters and one of the few not located in a State Capitol.  The earliest portion of the structure dates to the 1730's.  South of that building are Officers Quarters built in the 1880's.  Across the street is the only remaining building constructed in 1768 by the British during their occupation of the City (1763-1784).  It was their Bakery and is now a garage.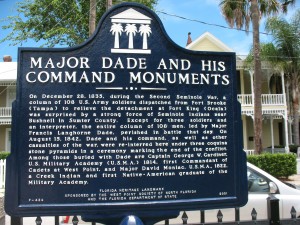 Just past the houses is the St. Augustine National Cemetery, which began as the military Post cemetery and in 1881 was designated a National Cemetery.  The Post was established in 1821, when Florida became a Territory, and the first recorded burial there was in 1828.  At the south end you will note three pyramids, beneath which are the remains of an unknown number of soldiers who died during the Second Seminole War (1835-1842).   These remains were gathered from battle grounds, hospitals, forts and encampments around the state and ceremoniously reinterred here on August 14, 1842.
Parking is a problem during the National Guard duty days, which include the first two weekends each month,  from 0800-1700 (5pm).  If you want to walk in this area for a closer look at the tombstones, etc., turn right on San Salvador at the end of the cemetery then right on Charlotte St at the other end of the wall.  You can park on the right side of the street if you can find a place.  It is patrolled, so don't park at a yellow curb.  If you cannot find a place to park go to the end of the street and jog left into the St. Augustine Historical Society's parking lot.  The signs say it is for visitors to the Oldest House or the store.  To remain honest, go to their store and check out their extensive collection of books on St. Augustine and Florida history and gifts.  You can also take their tour of (one of) the oldest houses in town.
Contributed by Harry Metz