GRFF Inc. Presents the 20th annual Gamble Rogers Music Festival
May 1st – 3rd, 2015 at the St. Augustine Amphitheatre.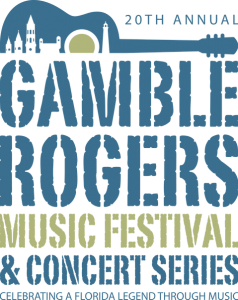 The Gamble Rogers Music Festival is one of our favorite music events of the year. If you are like me and are always wanting to find that great new band to listen to over and over again, this event is for you. Last year I fell in love with The Currys. We picked up their CD at the festival after seeing an outstanding performance and have become huge fans. Everyone who hears them asks how we found this unbelievable talented group of guys. Lucky for us they're back again this year along with so many other fantastic musicians and song writers.

This years lineup is so talented you won't want to miss a single act. 
---
Ticket Information
To purchase tickets to the 20th Annual Gamble Rogers Music Festival, please click on the link below, or call Paul Linser at 904-794-4163. Hope to see you there!!!
http://www.gamblerogersfest.org/
Ticket Prices:
Weekend Pass- $35
Saturday Only- $25
Sunday Only- $15
Tickets also available locally at Music Matters (196 SR 312), Simple Gestures (4 White Street) and The Bead Chick (78 San Marco Avenue).
---
Special Friday Night Show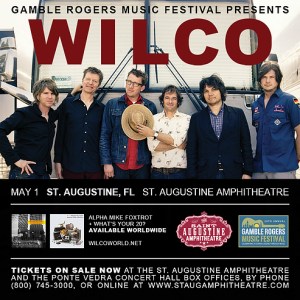 The Gamble Rogers Music Festival and    Concert Series will present an intersection of 20th anniversaries for their     Festival in May 2015. The headliner act for the opening night of the 20th     anniversary celebration festival will be the outstanding Americana sextet from Chicago, WILCO. WILCO will be in the midst of their 20th anniversary tour and celebrating the release of their anniversary box set Alpha Mike     Foxtrot. Tickets for the Friday May 1st festival opener at the St.     Augustine Amphitheatre are available at the St. Augustine Amphitheatre and     the Ponte Vedra Concert Hall box offices and online through Ticket Master. The purchase of a WILCO ticket entitles the patron to a deep discount on a weekend pass for the Gamble Rogers Music Festival ($20 for combined Saturday and Sunday ticket).
Receive this discount in one of two ways:
Purchase the weekend pass at the time of purchasing Wilco tickets through     ticketmaster, OR,
Presenting the ticket stub at the ticket window at the Festival on     Saturday. (There is no discount for Sunday only).
For additional details on WILCO visit www.staugamphitheatre.com and click the link to the Gamble Rogers     Music Festival/WILCO event.
---
Weekend Schedule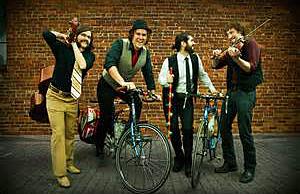 Saturday
Main Stage: Saturday
1:30—2:10 Larry Mangum and the Cowboy Orchestra
2:15—2:55 The     Driftwoods
3:00—3:40 Carlos and     Carlos
3:45—4:25 Laney Jones and the Spirits
4:30—5:10 The Willow     Wacks
5:15—5:55 Walter Parks & Lee Hunter
6:00—6:40 The Currys
6:45—7:20 Chris Henry's Hardcore     Grass
7:25—8:05 Harpeth Rising
8:10—9:10 Jim Stafford
9:15—10:30 The Steel Wheels
Side Stage:     Saturday
1:30—2:00 Aslyn & the Naysayers
2:00—2:30 Rachael Carrick
2:30—3:00 Jamie DeFrates and Susan     Brown
3:00—3:30 Charlie Robertson
3:30—4:00 The Rubies
4:00—4:30 Mindy Simmons and Lisa Bohn
4:30—5:00 Rod McDonald
5:00—5:30 Lyn Rogers Lacey
5:30—I Remember Gamble
Florida Stage: Saturday
1:30—2:00 Joe     Mark
2:00—2:30 Lucky     Mudd
2:30—3:00 Jim     Carrick
3:00—3:30 Magda     Hiller
3:30—4:00 Bob     Patterson
4:00—4:30     Paradox
4:30—5:00 Shannon Ogdon
5:00—5:30 Belmont and Jones
5:30—6:00 John Dickie IV
Mezzanine Stage: Saturday
1:30—2:00 Cracker the Box
2:00—2:30 The Anderson Bros
2:30—3:00 Jigtoamilestone
3:00—3:30 Jeremy Rogers
3:30—4:00 Mike Howard
4:00—4:30 Bill & Eli Perras
4:30—5:00 Charley Simmons
5:00—5:30 Al Poindexter and River Rise
5:30—6:00 Hart Line
Pickers Stage: Saturday
1:30—2:00 Jerry Mincey & Tony     Macalusco
2:00—2:30 Gypsy     Wind
2:30—3:00 Sand     Fleas
3:00—3:30 Black     Fire
3:30—4:00 Wax Wings
4:00—4:30 Todd & Molly Jones
4:30—5:00 Wild Shiners
5:00—6:00 Rivernecks
The Gazebo Stage Saturday
1:30—2:00 David Dowling
2:00—2:30 Chris Kastle
2:30—3:00 Cindy Bear
3:00—3:30 Katherine Archer
3:30—4:00 Lauren Nicole Heintz
4:00—4:30 Jon Bailey
4:30—5:00 Colton McKenna
5:00—5:30 The Skinny
5:30—6:00 Promenade Action
Children's Area: Saturday
"Mrs     Kate" Carpenter from the tiny town of Callahan,     Florida, and tours the world making families smile with her interactive     folk music. With her sidekick puppets, she'll be sharing homespun stories     and folk songs inviting the audience to sing along. She has recorded 11     original Cds and 2 children's music videos, which she will be happy to     autograph for you after the show. Got kids? Don't miss Mrs Kate! Visit www.MrsKate.com
Showtimes:      2:00-2:30       3:30-4:00   5:00-5:30
---
Sunday
Main Stage: Sunday
12:00-12:40 Gypsy Wind
12:45-01:20 Maja Gitana
01:25-02:05 Michael Jordan
02:10-02:50 The Dalziels
02:55-03:35 Sam Pacetti
03:40-04:20 Chris Henry
04:25-05:05 Flagship Romance
05:10-06:00 Lonesome Bert & the Skinny Lizards
Side Stage: Sunday
12:00-12:30 Ancient City Slickers
12:30-01:00 The Dunehoppers
01:00-01:30 Larry Mangum
01:30-02:00 Rebecca Zapen Douglas
02:00-02:30 Mindy Simmons and Lisa Bohn
02:30-03:00 Rod McDonald
03:00-03:30 Clyde Walker
03:30-04:00 Lucky Mudd
04:00-04:30 Lauren Nicole Heintz
04:30-05:00 The Obscure Brothers
05:00-05:30 Paradox
05:30-06:00 Wild Shiners
Florida Stage: Sunday Hosted By (NFFN)
12:00     Sidetrack
1:00pm Dixie Rodeo
2:00pm Paul Garfinkel
3:00pm Jackson Creek
4:00pm Shane Myers
5:00pm This Frontier Needs Heros
Mezzanine Stage: Sunday Hosted by Tale Tellers of St Augustine
12:00-12:30 Twila Flemming Hudson & Harold Lock
12:30-01:00 Margaret Kaler
01:00-01:30 Joyce Sabato
01:30-02:00 Kaye Byrnes
02:00-02:30 Madeline Potts
02:30-03:00 The Storytelling Sims
03:00-03:30 Chris Kastle
03:30-04:00 Robin Schulte
04:00-04:30 Backintyme
04:30-05:00 Betty Fell
05:00-05:30 MJ Harris
05:30-06:00 Drew Sappington & Kathy Duffy
Pickers Stage: Sunday Hosted by Local Honey
12:00-12:30 Dewey Via
12:30-01:00 Rob Peck
01:00-01:30 Scott Sweet
01:30-02:00 Elizabeth Roth
02:00-02:30 Pat Murphy
02:30-03:00 Amy Hendrickson
03:00-03:30 Joe Schauer
03:30-4:00 Eric Hood
04:00-04:30 Shea Birney
04:30-05:00 Jim Johnston
05:00-05:30 Chelsea Saddler
05:30-06:00 Love Chunk
---
Kids Tent, Food Trucks and Artist Vendors
Kids 12 and under are FREE!!!
Children's Area:
Featuring arts and crafts and renowned musician "Mrs. Kate" Carpenter.
To learn more, check out her website at www.mrskate.com.
Showtimes- Saturday, May 2nd: 2-2:30pm; 3:30-4pm; 5-5:30pm.
---