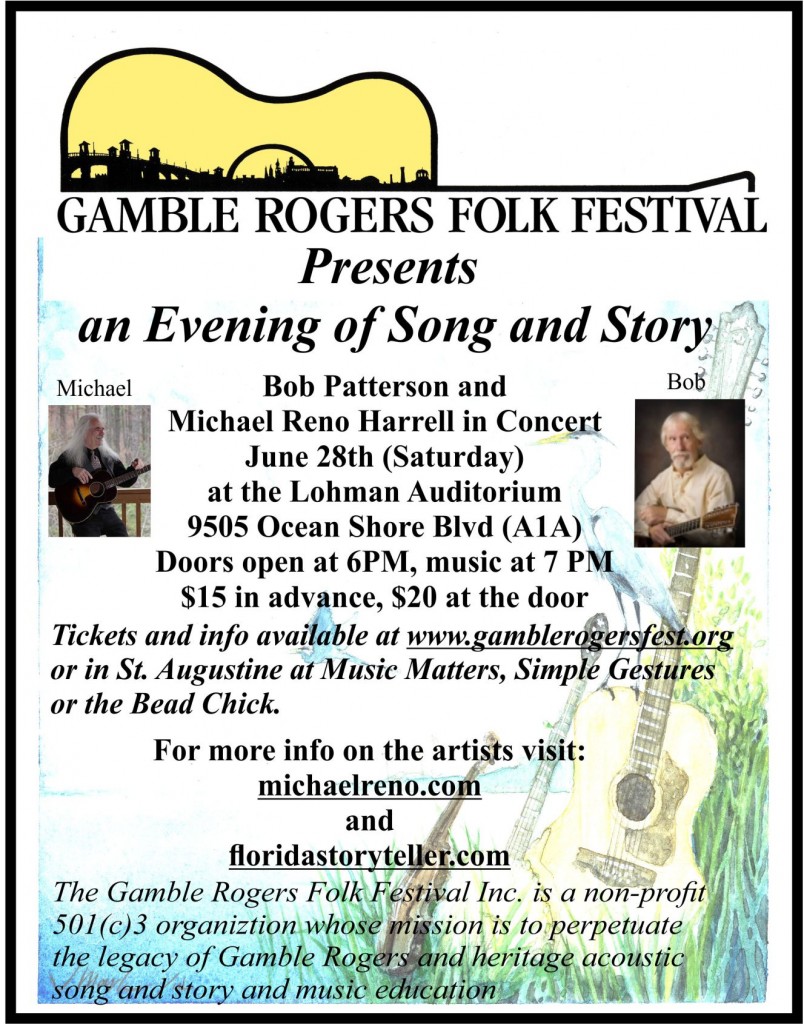 The Gamble Rogers Folk festival Inc., a 501(c)3 non-profit organization dedicated to the arts and art education, will be sponsoring a concert at the Whitney Lab Lohman Auditorium on June 28th (Saturday). The concert will feature two nationally known and often honored singer/songwriter/storytellers, Michael Reno Harrell from South Carolina and Bob Patterson from Northeast Florida.
The doors will open at 6 PM and the music will begin at 7 PM. There will be light refreshments available. Tickets are $15 in advance or $20 the evening of the show.
Tickets will be available as of June 1st and may be purchased on line at www.gamblerogersfest.org or locally in St. Augustine at Music Matters (196 State Road 312), Simple Gestures (4 White Street) or the Bead Chick (78 San Marco Ave.) or by calling Paul at 904 794 4163. This promises to be a wonderful evening of music and story that will send you home laughing, humming and thinking! Seating is general admission and limited so do get your tickets early. THE ADDRESS of the Whitney Lab and Lohamn Auditorium is 9505 Ocean Shore Blvd. (A1A), adjacent to Marineland.