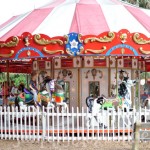 Davenport Park –180 San Marco Ave-   904-823-3388
Davenport Park has a full scale, antique carousel offering rides for little ones 7 days a week all year round for $1 per ride.
This park has a very nice playground area with a nice shaded tree canopy covering the many picnic table areas.
The climbing structure is very nice and has some interesting, and fun things for kids to do. The play structure was funded by a non profit foundation in memory of Kourtney Nicole Schmidt, who lost her life at the age of 10 months to Spinal Macular Atrophy. Her remarkable parents, who were grieving, decided to set up a foundation in her honor to do something good for the community.
The foundation created the play structure inside Davenport Park. It is called Kourtney's Korner, and is fully handicapped accessible, meaning a wheelchair can go right up the ramp and kids can play with some fun interactive things up at the top of the structure.
Splash Water Park at The Saint Augustine Pier:  Lots of fun for the kids!! Right there by the pier entrance is a splash park for your kids to run and play in along with a little play ground.  It is right on the beach so you can go and enjoy the waves too!  There are picnic tables and bathrooms available as well as free parking.
S.W.I.N.G. Park: Located in downtown by the parking garage and next to Francis Field.  This is an awesome park for the kids!!  The structure is mostly wood with lots of things to climb and walk across.  There are regular swings and a tire swing.   There is also a separate section for the smaller children.
Treaty Park:  Located off Wildwood Rd off SR207.  This park has a dog park too!!  There is a playground, tennis courts, racquetball courts, skate park and nature trails.  There is also a dock that is over a pond to feed the ducks and turtles.  This park also has a covered pavilion with picnic tables.
Contributed by, Jennifer Ellen Ellis -Olde Towne Toys