This is our summer time fishing report.
Capt. James Dumas 
The weather is hot but so is the fishing. On the inshore fishing scene you either want to be out at
first light in the morning or in the evenings. The mid-day is hot and
the fish like to take a little nap. We are targeting red fish in the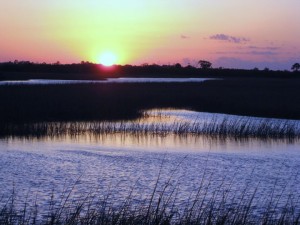 creeks or on the flats. They are eating a well-placed soft plastic bait.
I prefer the ZMan paddlerz in the redbone color. If you are throwing
flies, a simple chartreuse and black clouser works great. For the live
bait angler a mud minnow or piece of cut lady fish on a jig head works
great. There are also flounder, trout, tarpon, black drum, sharks, jacks,
and ladyfish inshore during the summer.
For the surf fishing there will be whiting, bluefish, smaller sharks,
and the occasional redfish or black drum. The preferred fishing set
up would be a sand flea or dead shrimp on a double dropper rig. For
the weight I would use a 4 oz. sputnik sinker. Some of the best beaches
are the Matanzas Inlet, Vilano Beach, and the picnic tables in Guana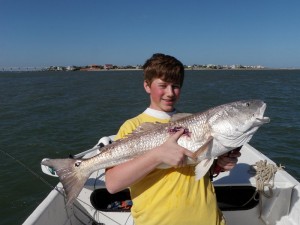 Park beach. Look for the water run off at the falling high tide.
For the offshore fishing there is an assortment of fish to target.
On the near shore scene they will be targeting kingfish and tarpon with
the occasional cobia or shark. Slow troll a pogie in 30 – 50 feet of
water and around the inlets. On the offshore wrecks and reefs there
will be groupers, snappers, jacks and cobia. Most of these species are
caught bottom fishing. Make sure you have a pitch rod ready for the
free swimming cobia. Further offshore they will target mahi mahi, wahoo,
and billfish.
Inshore flats fishing – Drum Man Charters-   www.drummancharters.com -904-687-9498
Inshore kayak fishing – Action Kayak Adventures-  www.actionkayakadventures.com–   1-904-325-0344
Contributed by Capt. James Dumas