Happy Birthday to Me!-
About once a year, usually in the spring, I get an itch to go fishing. When it hits me I usually  run into my husband's office like an eight-year-old kid screaming, honey, honey, can we please go fishing? When would you like to go he asks? For my birthday  I exclaim.  I'll call Capt. James and see if he has it available.
I love Capt. James  fishing charter, Drumman Charters. He has been taking me fishing on my birthday for about 5 years. He has a great boat and my husband and I feel very comfortable fishing on it together.  The first time I went out with Capt. James was my first fishing lesson in the Saint Augustine inter-coastal waterway. Boy did I have a lot to learn. Capt. James taught me everything I needed to know, all I had to do was show up wearing sunscreen. He has the poles, the bait, the boat, and a cooler full of water. He also has a cooler of ice to keep your fresh catch cold and my goal that day was to fill it with Red Drum!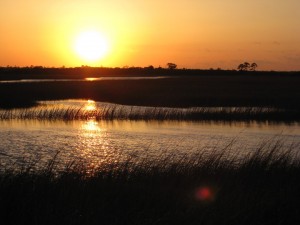 We used live bait, so he baited  all my hooks for me (now that's service). I wasn't too comfortable casting in the beginning, so he did that for me too. But with a few pointers from Capt. James soon I was casting on my own feeling confident and comfortable and having the time of my life on his boat. Did we catch fish you ask? Why of course we did. Capt. James informed me that every morning he goes out looking for fish, he says the trick is finding spots where the fish are not feeling too much pressure. Every year that I have gone out  with him he has shown us new places to fish, new techniques and a great time.
The scenery and the fingers of the inter-coastal waterway is breathtaking. This is why I sometimes like to fish here instead of in the open water. I find it more relaxing and every time I'm out it's like I'm on wildlife tour. Every trip, we take some time out from fishing to watch the dolphin play. I never get tired of watching dolphin and I always feel like it's a great birthday present when they make their appearance for me. Capt. James on the other hand reminds me that dolphin are not good for fishing. So with that he starts his engine and takes me to a new spot, a secret spot.
Fish you catch yourself always tastes better (he cleans them for ya too). I have caught all kinds of things out  there on Capt. James's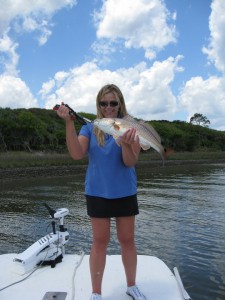 charter. We have caught redfish, trout, flounder and sheep-head, all great to eat. But some fish are just fun to catch. Capt. James takes us for those too, this past April my husband caught a 40 pound bonnet head shark out with Capt. James. That will get your adrenaline going and going and going. I have caught some really fun fish that fight and make you feel alive. The inter-coastal at certain times of year is full of ladyfish, they put up a great fight, I don't know if the word lady should actually be in their name. I have also caught some Jacks that showed me a really a good time and a puffer fish who was really fun to watch blow himself up. My point is you never know what you can catch out there but I do know with Capt. James,  you  always catch something , that's just the kind of guy he is. Your experience is so important to him that he gets up every day  and goes and looks for fish. Who does that? He's a dedicated Capt., a wonderful tour guide and a hell of a fisherman and that's why I love fishing with Drumman charters.
You can find Capt. James at http://www.drummancharters.com
1-904-687-9498