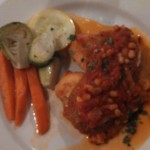 As far as fine dining goes, I really don't do as much of it as I used to. Living in St. Augustine on Anastasia Island has kind of made me a toes-in-the-sand, sandwich-in-hand kind of girl. There are times, however,  such as special occasions , that a sandwich in hand just won't do. It's on these occasions that La Pentola becomes a perfect choice.
I recently had lunch there with my step-mom. It was one of the first hot days of the season and we didn't realize how warm it had become. We asked to sit outside in the beautiful courtyard with the trickling fountains and exotic plantings, only to find before they brought water, we were sweltering. I went to the hostess and explained my situation.  They were wonderful to pick up everything they had brought us and move us inside to a lovely table in front of a beautiful antique mirror and treat us like Queens for a day.
What were we celebrating you ask? Just each other and our friendship and the fact that we get to live in St. Augustine. Our server's name was Susan. She was wonderful and had just the right balance of making sure you were taken care of without interrupting your conversation. She also made a wonderful recommendation for my lunch. I had the..
CHICKEN SORRENTINO ~ sautéed chicken breast topped with breaded eggplant, fresh mozzarella cheese and tomato basil & white beans sauce . . . $13.95.  This dish came with a side of roasted vegetables that were fresh and crisp and tasted like they were picked that morning. In fact everything  had a fresh, clean and  delicious taste. The best of the best ingredients went into this dish by some experienced hands in the kitchen.
My Stepmom had the..DUCK & GOAT CHEESE SALAD ~ Shredded duck, apples, walnuts, goat cheese & fresh berries with warm balsamic vinaigrette over mixed greens . . . $12.95.  This salad was beautifully done and presented artfully.
Everything here was delicious that day and I am dying to go back and try dinner. So far I have only had lunch here. I want to go back and have dinner  and try some of their fine selection of wines.
My server Susan says I can get the chef to make Chicken Sorrentino for dinner even though it is not on the dinner menu. That dish was so delicious I don't know if I could try anything else just yet. I figure if I go at night in the hot steamy weather, I have a better chance of sitting out in that gorgeous courtyard. There is something about the trickling of fountains on a hot summer night that draws me in and relaxes me. I guess I will have to come up with another reason to celebrate and go there for dinner. I'll let you know how that goes, but somehow I know it will be just as perfect as lunch was.