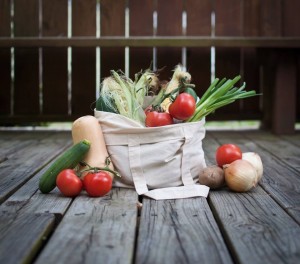 North Florida's First Mobile Farmers Market Launches May 17th, 2014
Local nonprofit Pie in the Sky's new flagship program, Farm to Family, is due to make it's official public launch on Saturday, May 17 from 11 – 1 pm at Bozard Lincoln Ford, 540 Outlet Mall Blvd, St. Augustine, Florida.
Farm to Family is a mobile farmers market that sources produce from local farmers and sells it to neighborhoods throughout St. Johns County, including neighborhoods designated by the USDA as "food desert" areas.
The program is the first of its kind in the North Florida region, and was developed in collaboration with the University of Florida IFAS extension office and local farmers in Hastings, Florida. The goal of the mobile market is to bring fresh, healthy foods to neighborhoods in need with an innovative program that sustainably supports our entire local food economy. The program supports local job creation, sustainable farming practices in our area, nutrition education programming and community health.
When you buy from Farm to Family not only are you getting the freshest possible product available (we load our trucks directly from the farm on the day of delivery), but you're also supporting local community health and education outreach, which the market is also slated to develop. All proceeds from the sale of produce with Farm to Family are rolled directly back into outreach. The truck will make a total of 10 stops at locations through St. Johns County each week to start, with plans to expand as programming grows. To learn more about market stop locations and hours, visit our website at www.farmtofamilyflorida.org.
Farm to Family's launch event is open to the public and will feature an official Chamber of Commerce ribbon cutting ceremony, plus a blessing of the truck by retired Bishop Edward Chalfant and presentations by guest speakers Commissioner Ron Sanchez and Assistant County Administrator Jerry Cameron. Afternoon festivities will include live music by local favorite Lonesome Bert and the Skinny Lizard, tours of the mobile market, drinks and appetizers, and an opportunity to take home bags of fresh-picked produce.
For more information on Farm to Family or the launch event, please contact Malea Guiriba at 904-382-9939 or malea@hastingspieinthesky.com
Launch Event Information: http://farmtofamilyflorida.org/event/farm-to-family-launch/