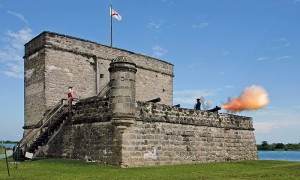 Fort Matanzas was completed in 1742 by the Spanish to protect St. Augustine from an attack by their enemies, both England and pirates.  It fell to ruin in the 1820's, was stabilized by the War Department in 1916 and 1924.  The National Park Service took it over and rebuilt it in 1935.  It is an under visited gem in the NPS system.
The entrance to the park is on the west (your right) side of the southern tip of Anastasia Island, 13 1/2 miles from the Bridge of Lions.  It should take 25 minutes depending on lights and traffic.  The Fort itself sits on Rattlesnake Island (really, so keep the children on the paths and mowed areas!).   The Park runs a boat back and forth every hour on the half hour and in the really busy times they can run two boats.  Seating is by boarding pass from the gift shop and the entire park is FREE.  Try to get there by quarter past the hour to get your passes and boarding number for the next boat.  They depart from 9:30 to 4:30 including  12:30,  weather permitting, every day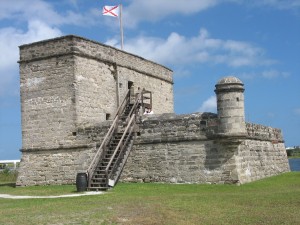 except Christmas.
The Fort is small and Kid friendly.  It does involve climbing up some stairs to get into the Fort and then there are ladders to climb to the top where the lookouts watched for ships and other threats.   Unfortunately it has kept its originality and is not wheelchair or walker friendly.  It is a small fort and not intimidating to young kids who generally love it.  On the first weekend of the month they usually have reenactors firing muskets or cannon and sometimes on other days as well.  Like many historical attractions they rely on volunteers and their availability for these demonstrations.
The boat ride is a short and refreshing pleasure.  Usually you can see fish in the water as well as fishermen on the shore and in boats.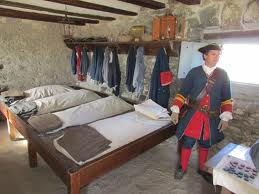 If you have to wait for the (next) boat there is a half mile nature trail, many shaded picnic tables, a large rest room building and a ten minute video on the history of Matanzas.
If you want a good view of the ocean when you leave turn right and continue south over the bridge.  If you want a better view once over the bridge turn left on "Old A1A" just before the gas station on the left and drive a short way down the road.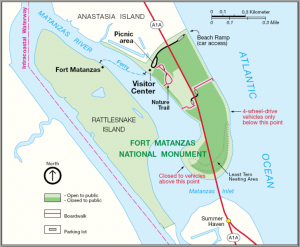 On your drive back into town you will pass several eating places and if you bear right at the Winn-Dixie stop light and proceed north on A1A Beach Blvd you will find many more.  The Blvd rejoins Rte. 1 at the north end of St Augustine Beach.
Contributed by Harry Metz.
The grounds of the park are pet friendly but the Fort and Ferry are not.