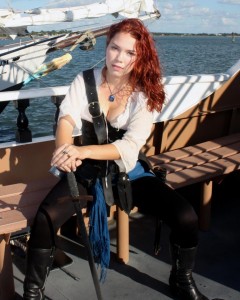 Ahoy Matie!   If you are looking for fun night out on the town being thoroughly entertained, look no further. St. Augustine Historic Walking Tours offers a pirate pub crawl that is truly a one-of-a-kind experience. The pirate pub crawl is roughly 2 1/2 hours long and rich with history.
On our arrival we were greeted by the beautiful redheaded Privateer Anne Bonny. She was to be our guide for the evening. She was dressed authentically, right down to her magnificent collection of pirate/privateer weaponry. We were greeted with a beer, after all, this is a pub crawl too. I knew right away this was going to be a great evening. Anne Bonny lives and breathes Pirates. There was no question she could not answer. The other couple that was with us had a great knowledge of Pirates and pirate history in St. Augustine and other coastal towns. They were enamored by her incredible knowledge.
I for one don't know much about Pirates other than how they dress and that they say Arrr!   I immediately became intrigued and was immersed in what I was learning about Pirates on this tour. While we were enjoying our first beer,  Anne began to teach us the  history behind Pirates and Privateers, along with the history and purpose of each of the authentic weapons that she as a privateer carries. I love  antique weapons and I really enjoyed being able to see up close the craftsmanship that went into making these.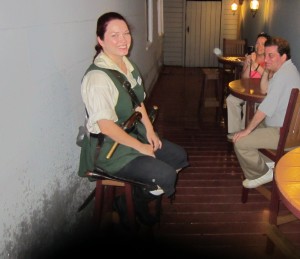 Our next stop on the tour was The Old  Town Wine Cellar on St. George St..  As a local I had never been here before. That is one of the things I love about St. Augustine Historic Walking Tours. They always surprise me by showing me some great spot I have never been. This was the perfect place to sip on sangria and listen to pirate tales. There was a sign outside that read, "Our Sangria is an Experience" and it was. It was fantastic, we all ended up ordering it. The information Anne Bonnie provided us here about  " Drakes Raid," really got me hooked. It actually inspired me to grab a book on this and start reading some local history about this when I'm sitting on the beach.
At our next stop, we learned a little bit of history about the real Ann Bonny, Mary Reed and Capt. Jack. This was a very entertaining and an intriguing adult story. We also got to hear Anne ( after a little bit of prodding) sing us an adult (dirty) Sea Shanty. We  all had a few drinks by now, so none of us were shy about participating in singing with her.  I think she may have missed her calling or she may have been a real pirate in a past life. Not only did she sing the Sea Shanty, she wrote it!  This had turned out to be a really fun night.
Our last stop on the Pirate pub Tour was at one of my new favorite spot that I had become familiar with on this same company's "Spirits with Spirits Pub Tour".  The  Taberna Del Gallo is a great spot on St. George Street. It is a beautiful authentic Spanish Tavern lit only by candlelight. They also serve up a terrific sangria. It was only $4.25 after discount. ( If you're on the tour, you get discounted drinks at all the pubs) This was the perfect place to hear the last of the pirate tales and say good night to Anne Bonny. If you are looking to be entertained, learn a little history and see St. Augustine through the eyes of a pirate, check out this tour. You may even be inspired to learn more about this Pirate/ Privateer lifestyle on your own. I know I was.  If you are looking for a more kid friendly pirate tour, they have one called Pirates Plunder and Parlay.  I hear this tour is very interactive and fun for all age groups. Arrr!
Saint Augustine Historic Walking Tours
http://www.staugustinehistorictours.com
PH: 904-392-7137