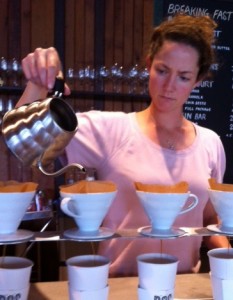 We like to keep you informed on what's new in town & what's hot. DOS Coffee is HOT & it will PERK you right up!  Saint Augustine has a wonderful new addition, DOS Coffee & Wine Bar on the North end of San Marco Ave.
What do we love about them?  The coffee first and foremost is fabulous. They are serving up CONVIVE coffee that's roasted daily in-house.
Pour over coffee is their specialty!
Fresh ground coffee to order, the extraction takes place at their uniquely designed pour over lab. The brew time takes about 3 minutes, It's  beautiful to watch and even more lovely to taste and it just makes you feel special.
If you love ice coffee, they have that covered too.
 They do a Cold Brew that entails a 5 hour ice water drip extraction, leaving a smooth, flavorful, and  dense concentrate of sumatra roast…served over ice. It's a hot commodity.
They have great menu items at reasonable prices. If you looking for fresh baked breakfast items or a sweet treat, you will find it at DOS.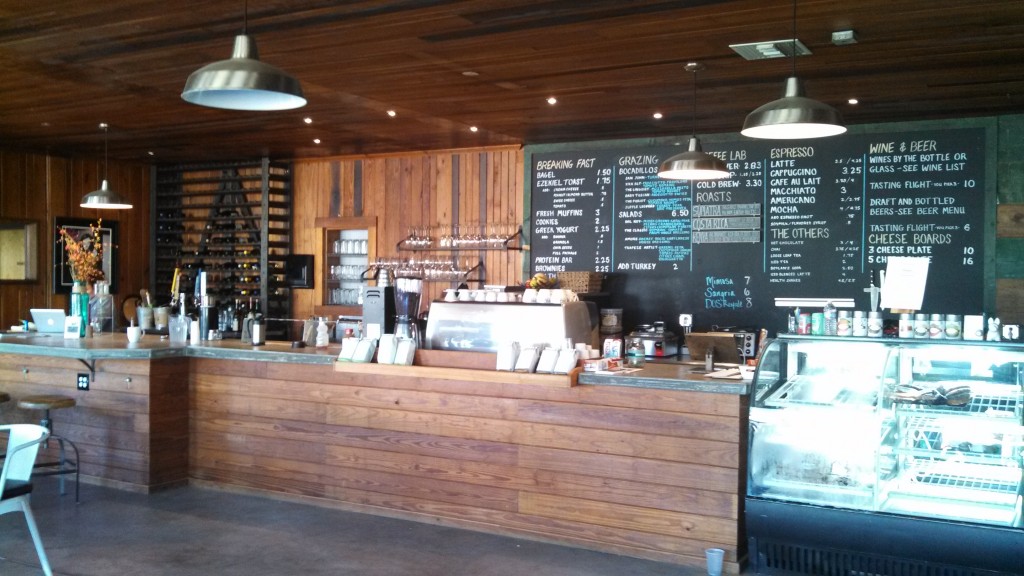 Breakfast offerings~ bagels, muffins, ezekiel toast, almond butter, health shakes made with frozen fruit no artificial flavorings, toad-in-a-hole rendition (eggs baked in fresh bread with cheese)
They do lunch & dinner.  You can even create your own cheese boards.  (rotating selection of cheese and counterparts)
Lunch/evening offerings~
Bocadillos, a fresh baked ciabatta bread sandwiches pressed on the panini grill for $5.75
-San John- deli turkey, pesto, swiss
–xxx BLT- prosciutto, lettuce, tomato, provolone
-The Linguist-  fresh mozzarella, pesto, arugula, tomato
-The Purist-  home made hummus, feta, cucumber, lettuce, tomato
-Supple Leopard-  deli turkey, brie, pear, raspberry preserves
-Baby Tuscan-  prosciutto, swiss
-Salads
If you love beer or wine, they have that too. They have six different craft beers on tap, which are rotated frequently. They also have a selection of bottles. If wine is your thing, they have wine & sangria.  My advice is to try the tasting flight. You can taste three different tastes for $10.00. They also have splits of Prosecco, just in case you're celebrating. Don't forget to create a cheese board  if you are having a glass of wine there.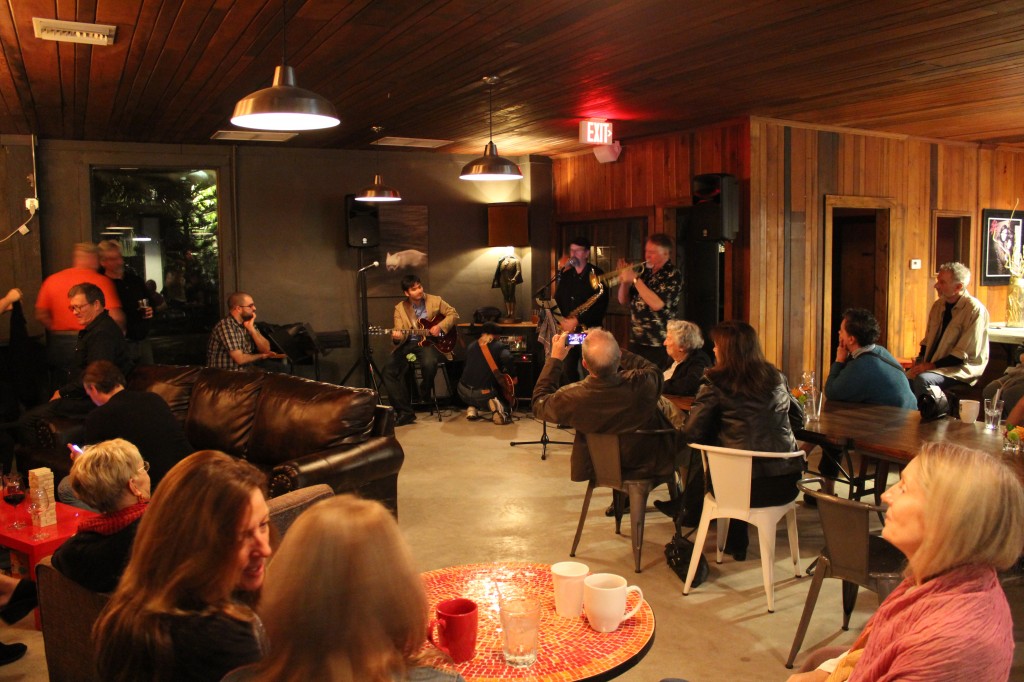 It's a great spot to hang out away from the hustle and bustle of downtown. They have a great space, with comfortable seating and a cool vibe. They have live music at least one night a week and they host a variety of other events. If you're looking to have a business meeting or a small party,  you can rent the space for that as well.
All in all I would say that DOS Coffee and Wine Bar has become a locals favorite for good reason.  Go check them out and tell them "The Locals' Guide" sent ya.
Hours
Monday – Tuesday    7am – 2pm
Wednesday                 7am – 7pm
Thursday – Friday      7am – 10pm
Saturday                      8am – 10pm
Sunday                         8am – 5pm