Cantina Louie is a Fun New Mexican Restaurant in St. Augustine Florida.
Cantina Louie is now open!  The Locals' Guide couldn't wait to try it so we popped in for the grand opening to see what it was all about. It was fantastic! If you love Mexican food you are going to love this place.
The food is authentic and the prices are good. You get a lot of food for a great value.
They are serving up a wide variety of  Specialty Tacos, Enchiladas, Quesadillas, Burritos, Fajitas and authentic "Mexican Street Food."
See Lunch Menu – Dinner Menu – Drink Menu
They start you off with chips and salsa, of course it's homemade and out of this world.
We ordered a lot of food so we could try a variety of dishes. My first taste of Mexican Street Food was the Taco Fresco – $3.50
Made fresh with skirt steak, then topped with fresh lime, Pico de Gallo, and queso fresco. It was fantastic and probably my favorite. I absolutely love the seasoning they use on the steak at Cantina Louie.
Next up was the Sope – $3.99
A fresh handmade corn patty topped with refried beans, skirt steak, lettuce tomato, sour cream and queso fresco.
I had never had a Mexican sandwich before so we had to try the Torta – $8.99
Said to be Mexico's favorite sandwich and now my favorite Mexican sandwich too.
It s a combination of skirt steak, refried beans, lettuce, avocado, tomato, mayo and queso fresco on a big fat roll. It was really good but I must admit I was so full I only ate the filling and left the roll and fries behind.
My husband is not a fan of refried beans so he ordered one of the Gringo Combo Dinners for $8.25
He ordered the number 8  plate. It came  with one taco, one enchilada and one burrito. It was a lot of food for the money and it was terrific. You can choose from 14 different combinations.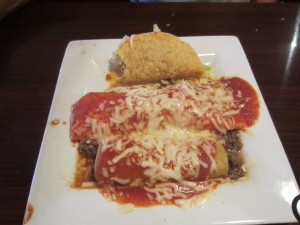 You would never know they had just opened. The service was really good and they were calm under pressure. The staff was friendly and very accommodating. They really don't have a bar to sit at  but they do have a wide selection of margaritas and frozen drinks. We had dinner on our visit but they do serve lunch Monday – Saturday. Prices for lunch run from $6.99 – $9.99
Next time in I really want to try the Fajitas. I am a huge Fajita fan and I just know they will make them perfect here.
On the weekends they serve up some other Mexican Street Food to try.
How about this Mexican Street Corn for starters?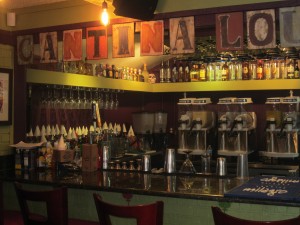 If you love Mexican, go check it out. I think you will really like the food and you can't beat the value. If you go, leave us a comment and let us know what you think.
Salud!
Cantina Louie is located at the corner of Route 1 and 312
1900 US 1 South
Saint Augustine, Florida 32086
They will be open daily.
Hours of operation: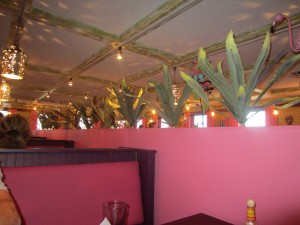 10:00 am – 11:00 pm