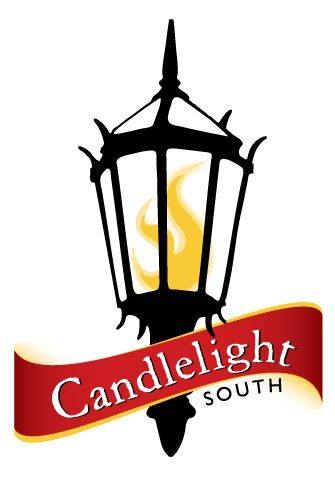 Attention Locals, there is a new spot in town to grab a bite & a beer. Candlelight South has just opened on the South side of the Bridge of Lions in the old Sea Fair location. It has been given a complete facelift and is ready to become a "locals favorite." They are serving up some fantastic food at great price points.
The original Candlelight Restaurant is located in Scarsdale, NY and has been operating under the same family ownership since 1955. It was started by Jack & Phyllis Tracy. The South location is owned an operated by their son & daughter in-law, George & Kathy Tracy, who are long time residents of St. Augustine. We had a chance to meet the chef, his name is Dustin Muir and he is from the Ponte Vedra area. He is truly passionate about the food he serves and it shows.
What do we love about them? The same things they are famous for up North. Incredibly delicious wings, ice cold beer, great food and reasonable pricing. Let's start with the wings. In their northern location, they serve over 10,000 pounds of wings a week. These are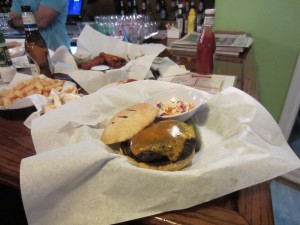 fresh, never frozen hand cut wings. They're served with blue cheese or ranch and celery sticks and  come in eight different sauce choices. We ordered a five wing portion in hot teriyaki, it's really 10 pieces because they are serving the entire wing. It could be a meal in itself for $7.95 We devoured them, they were fantastic and will soon become famous in St. Augustine too.
Next up was the burger. All of their burgers are made with fresh meat and are hand formed. We had a  6oz. cheeseburger with nothing on it but ketchup for $5.75 – It was fabulous. They have a cool concept there called build a burger. You choose from either a 6 ounce or a 10 ounce burger for a set price, and you can add bacon, cheese, lettuce, tomato, mushrooms, onions, jalapeno cheese sauce or anything else you may like for an added cost. This way you never have to pay for onion, lettuce, or tomato that you don't want to eat. I personally think it's ingenious.
My husband was hooked on the Philly cheesesteak sandwich for $9.00. If you like the Philly cheesesteak, this is a must try and it's huge. The quality of the steak was way above average for a Philly Steak as they use shaved  Rib Eye. It really makes a huge difference in taste and quality.They also do  a version with chicken. They serve several different varieties of their "freedom fries," you can get them in crinkle cut, waffle, or sweet potato. You can also add chili or cheese to that. They are yummy!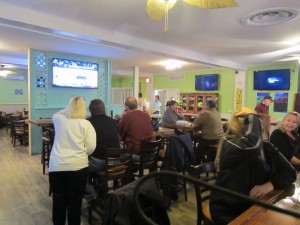 They just started serving a Rice Bowl there which I hear is becoming wildly popular. It's a combination of  avocado, cilantro, tomato, black beans, sour cream and jalapenos. Served with a citrus vinaigrette. You can also add chicken or steak to it for an extra fee. I have to try that next as well as their famous appetizer "Poppers," they are Broccoli, bacon and cheese bites.
They have 12 beers on tap, including a variety of craft beers, a root beer and hard cider. All served ice cold and with a smile. If you need gluten-free they didn't forget you. They have one beer and a hard cider that are gluten-free. They do not have a liquor license, however they do have a great wine selection as well. If you like watching sports and eating wings. They have eight TVs with DirecTV and the sports package. They do have an outside deck, and are pet friendly out there if you like to take your dog with you.
Candlelight South restaurant is open seven days a week from 11 AM to midnight. If you are hungry late-night they will take your
order up until 10:55 PM every day of the week. They pride themselves on the fact that they will be there when they say they are.
All in all I think they will be very successful here in St. Augustine. Locals can never get enough of great food with reasonable prices. Go check them out and tell them that the "Locals' Guide" sent you.
1 Anastasia Blvd
Saint Augustine, Florida