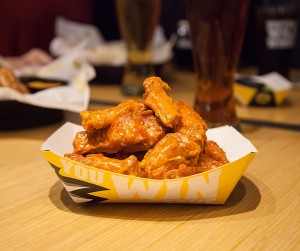 Buffalo Wild Wings is now open in St. Augustine, Florida. Are you ready for some football? Buffalo Wild Wings is ready with 47  TV's and two projectors I can't think of a better spot to catch a game.
It's big, it's roomy, and it's got a lot of energy bouncing around in the newly renovated building. There is fun upbeat  music playing and plenty to watch on the TV's.  The design and layout is perfect. You can choose to be seated in the middle of all the action or off to the side for a more private dining experience.
I talked with General Manager Stephen Taylor and got the scoop on Saint Augustine's newest hot spot for sports and great food. They're  really excited about being a part of the Saint Augustine community and it shows. They are aware of how many of our residents are hearing impaired and they wanted to serve their needs. If you see a "D" embroidered on a wait staff's uniform, they are fluent in sign language. We love it! Kudos to them.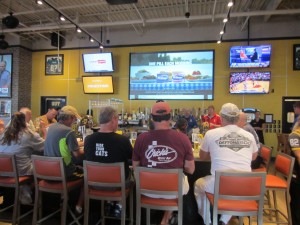 Besides serving up delicious  famous wings, you will also find burgers, salads, flatbreads, sandwiches and wraps on the menu. They are known for Wing Tuesday and Boneless Thursday, on those days they have wings for 60 cents a piece.
We tried the Caribbean Jerk wings done with a exotic sauce made with red peppers and island spices. I loved those wings and  they were my favorite. We also tried a dry rub of Chipotle BBQ and the Sweet BBQ wings. We also had the Spinach Artichoke Chicken Flatbread.  It had a thin crust and was smothered in a creamy spinach artichoke dip. They serve up good pub style food. We sat at the bar and our bar server's name was Kellen. I loved him! He was friendly, knowledgeable and he did everything he could to make sure we were happy. No matter if you're 21 or 101, get your ID out! They card anyone ordering alcohol. We get it, but it is annoying when you know you're old and you don't look THAT GOOD!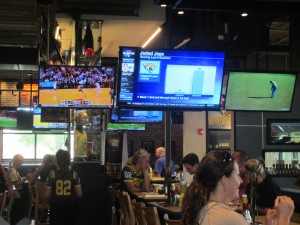 From the way the menu looks you can customize your wings or any of their menu items. I counted over 22 different flavors. They have everything from Blazin' to Sweet and some yummy ones to try like Asian Zing and Thai Curry.
Check out the menu for a complete look at the flavors & sauces.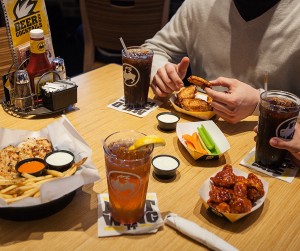 The bar is huge with a friendly atmosphere and a great configuration. They have 30 beers on draft and 25 different bottles including some regional brews.
Happy Hour runs from 2pm – 7pm and has a nice $3.00 appetizer selection. They have call drinks featuring Absolute, Captain Morgan's and Jack Daniels for $3.00 or $5.00 doubles as well as Domestic beer talls for $3.00. Now that's a great happy hour…. they really do understand St. Augustine locals.  😉
If you've eaten there, let us know what you think. We bet they will be a welcome part of the community, especially on game day.
They are located at 318 State Road 312. In the Old Friday's Building.
904-679-3495
Hours of operation:
Monday – Thursday 11:00am – 1:00am
Friday & Saturday 11:00am -2:00am
Sunday 11:00am – 12:00am
Cheers!