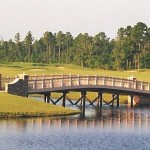 UPDATED JANUARY 2023
The St. Augustine and St Johns County area has a great variety of courses for players of every level and skill. From high end (and high fee) resort courses to County courses and even a nearby old Donald Ross gem nestled among ravines. We have compiled a list of some of our favorite courses factoring playability, conditioning, layout and value. Our favorites:
St Johns Golf Club – Elkton, Fl

The St John Golf Club County course just reopened in December of 2022 after a nine month  $8 million major renovation of the course as well as the club house. The course was basically razed with new contouring, irrigation, draining and some new hole designs.
The issues that had plagued the course, poor drainage, overall poor conditions, slow and bumpy greens have been eliminated. In 2023 the County course is by far the best value in the St Augustine area. The course redesign includes wider fairways, Biarritz, Punchbowl and Redan green designs and square, low-maintenance coffin like bunkers. These throw back design features may be a bit shocking to some and the square greens and bunkers may not be to everyone's liking. However it is just a huge improvement over the old course and it is certainly not boring or cookie cutter Florida design.
The new green complexes are  are Tif Eagle bermudagrass, the fairways TifTuf bermudagrass and the bunker faces use  Zoysia grass. It is a  71 and the length will range from 4,803 from the forward tees and 7,009 from the tips. The nines have been reversed for better routing and the practice area has also been expanded and moved closer to the clubhouse.
St Johns Golf Club is the local County course and not to be confused with St Johns Golf and Country Club. Although located in Elkton, the course is only 7 miles from the downtown area off Route 207. The county course was a 27 hole facility, but they closed 9 holes in 2011 due to slumping demand. The remaining 18 holes features a very picturesque layout with a great variety of holes. The course is very fair but not a knock over.
Rates including cart fees are extremely reasonable and start at $45 in season for county residents and $50 for out of state residents. Looking to play a quick nine in the afternoon can set you back as little as $21 including cart! The only issue after reopening is finding a tee time. You can make tee time reservations online here.

St Johns Golf and Country Club
In terms of layout, conditioning and value, St Johns Golf and Country Club is hard to beat. This Clyde Johnston layout is a monster from the tips measuring over 7200 yards but there are 5 sets of tees for players of all levels of ability. The course has served as host to the PGA TOUR Qualifying School in 2004, 2006, 2007, 2008 and 2009, so those long tees have been well served.  Most would enjoy the White tees at 6,384 yards and the ladies tees are 5286.
Conditions here are always impeccable, especially for a semi-private course. The greens are almost always rolling perfect and are generally fairly quick – 10-ish on the Stimp.
The layout is very fair and has a big feel to it. While there are houses on the course, they rarely crowd the fairways. Many holes have no houses. If you are hitting the ball well, you can score here. There are plenty of hazards and bunkers to catch any errant shots though if you are off your game or the wind is blowing.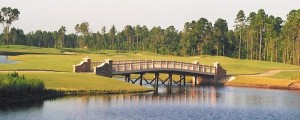 Both the 9th and 18th holes are spectacular finishing holes. The 9th is a dog leg right with a series of bunkers on the right and a pond guarding the left of the fairway. The 18th holes offers multiple fairways with two large bunkers and water running down the right of the fairway and wrapping around the green.
Fees including cart run from about $35 to $70 depending on the time of day and year. For $40 for an afternoon round it would be hard to find a better layout with better conditions anywhere around. The course is located north of St Augustine just off I-95 on CR210. While it is about a 30 minute ride from downtown St Augustine, it is well worth the trip.
Locals Tip –  If you are going to be in the area for an extended stay, check out the "Summer Sizzler" or "Big Chill" card they sell in the summer and winter with reduced rates all summer or winter. Also, don't confuse this with the county course called St Johns Golf Club in Elkton, Fl just outside of St Augustine.
St John Golf and Country Club
205 St. Johns Golf Drive
St. Augustine,FL 32092
www.stjohnsgolf.com
South Hampton Golf Club
Just down the road on CR 210  from St Johns is the South Hampton Golf Club. The course is similar to St Johns with a very enjoyable and playable Mark McCumber design. Many of the holes are wide open and you can "grip it and rip it" on many drives. From the tips it is 6952 with a slope of 132 but the next set of tees is a more manageable 6479 and 129 slope.  The medium tees list at just over 6,000 yards and the ladies are measured at 4784 yards.
Conditioning is usually very good and the greens roll well…although a bit slower than St Johns.
Fees including cart range form about $45 during the week to about $69 on the weekend.
The course has 16 lakes and over 60 bunkers, but the layout is fair. The back nine is a bit more adventurous so do your scoring on the front nine. There is a great variety of holes and you will not be bored playing here. The course is now family owned and all the staff are very friendly and helpful. You can't go wrong playing here as the rates are very reasonable and the course challenging and interesting but fair.
The King and the Bear – World Golf Village
If you want a high end resort course where the conditions are perfect and the designers are Jack and Arnie, this is your place. The only downside is you will pay for the privilege. Green fees are high…ranging from about a low of $69 to $169 and up on the weekend.
There is a huge variety of tees for  all levels.
| Tee | Par | Length | Slope | Rating |
| --- | --- | --- | --- | --- |
| Stone | 72 | 7279 yd. | 143 | 76.1 |
| Black | 72 | 6855 yd. | 137 | 73.5 |
| Blue | 72 | 6506 yd. | 133 | 71.5 |
| White | 72 | 5987 yd. | 126 | 69.2 |
| White (W) | 72 | 5987 yd. | 135 | 75.2 |
| Green (W) | 72 | 5119 yd. | 117 | 70.5 |

There is also a huge variety of holes with open meadows on the front and old live oaks adorning many of the holes on the back. The staff is friendly and you will be made to feel right at home. If you don't mind shelling out the dough….this is a great spot. If the budget is tighter try St Johns Golf and Country Club on the next exit north on CR210. You'll have an extra hundred for dinner or drinks or bets.
Much the same can be said the for the "Slammer and Squire" at the World Golf Village. A very nice layout and great conditioning, but it comes with the price tag of a resort course. Fees range from about $69 to $119 depending on day and time. Not bad for a nice layout and great conditions, but you have so many other options in the area.
Cimarrone Golf Club
Another course just down the road on CR210 is Cimarrone. If you like a challenge, you will like Cimarrone.  Looking at these slopes and ratings, you can see that there is plenty of trouble out there. Lots of water, lots of sand and some OB.
Championship                  73.5/137
Challenge                        71.4/133
Members                          69.3/126
Senior/Junior- Men          67.4/110
The course measures 6,891  years form  the back, 6548 from the Challenge tees and 6045 from the members tees. While the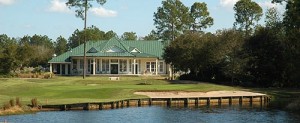 course is tough, it is fair and not tricked up. There are many very picturesque holes and the finishing 18th hole offers you a real challenge  to finish your round as well as beauty. Green fees are very reasonable and you can usually play for around $30. Join the email club and you can often tee it up for $25 in the afternoon. The downside? The greens are often not up to par and very slow. It is a shame since this is a very good layout and the conditions do not measure up. However, if you want to test your ball striking and you can live with spotty conditioning, this is a great way to spend an afternoon for less than $30.
Royal St Augustine Golf and Country Club
If you are looking for a course close to downtown, Royal St Augustine is it. And if you want to know what the term "target golf" means, or what I refer to as "condo golf", this is it. The conditions are generally good here and the staff is friendly. But this is a very tight golf course and if you are even slightly off the fairways, kiss that dimpled golf ball goodbye. You may even drive by the course on Route 16 coming into town and you can see what we mean. Two fairways line the road, if your tee shot missed the narrow fairway, your next shot is from the passing lane of Route 16. However, if you want to tee it up near town, on a well maintained course, this is a good choice. Just bring plenty of balls… and a straight tee shot.
The course is not overly long so at least you can out the driver away.
| | | | | |
| --- | --- | --- | --- | --- |
| Gold | 71 | 6529 | 137 | 71.9 |
| Blue | 71 | 6115 | 131 | 69.3 |
| Silver | 71 | 5363 | 121 | 66.6 |
| Red | 71 | 4670 | 120 | 64.5 |
The course is under new management and rates are very reasonable. Weekdays are form $32 to $21 and weekends from $37 to $29.  Check the website for specials or sign up for their email specials.
St Johns Golf Club – Elkton, Fl
St Johns Golf Club is the local County course and not to be confused with St Johns Golf and Country Club. Although located in Elkton, the course is only 7 miles from the downtown area off Route 207. The county course was a 27 hole facility, but they closed 9 holes in 2011 due to slumping demand. The remaining 18 holes features a very picturesque layout with a great variety of holes. The course is very fair but not a knock over.
Rates are reasonable and depending on the Season and time of day range from $45 to $25.

The biggest issue here is course conditions. The rough is rough and the fairways are Ok,  but the greens  can be very slow and patchy depending in the time of year. It is a shame the course is not in better shape as it is a very fun track to play. The front and back nine have very different characters and you would not be bored playing here on a regular basis. There is a good amount of water on the course but very few forced carries.
Also, if you are looking for a driving range, the feature a huge practice area, large hitting tee and an excellent chipping area.  A large bucket of balls is $6.00. The course also has a small 19th holes but it often closes early.
Saint Augustine Shores
"The Shores" is a good place for beginners and those who have a "casual" take on the game. Also a great place for Juniors. The course is short and conditions are not great, but this is a good "feeder course" for those getting in the game or who don't take themselves seriously and just want to have fun. This is not a resort course or a high end facility. Short, cheap and casual. Nothing wrong with that.
Blue: 67.5 /   112 slope            5659 yards
White:65.6 / 109  slope          5138 yards
Red: 64.8/     106 slope           4151 yards
Short Road Trips
If you are out on Anastasia Island or south of town, check out Palm Harbor Golf Club in Palm Coast. It is about 30 minutes drive south on scenic A1A and a fun picturesque course. If you want to head inland and want a change of scenery, look up Palatka  Golf Club. It is, amazingly, an old Donald Ross design with rolling fairways next to the Ravine Gardens State Park. You won't think you are in Florida on this track. Short, and funky greens, but fun to play for a change. Rates on "Golf Now" are as low as $12  sometimes including cart. Otherwise you can always play for around $20.00. Worth the trip for a little variety.