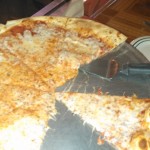 Napoli has closed and is now Viola's Pizza.
I am almost hesitant to share with you my favorite pizza place, I am afraid I might lose my seat at the bar during happy hour.
Once a week, usually on Tuesday night my husband and I go to Napoli Pizza out at Crescent beach . Being half Italian, I can honestly say they have the best New York style pizza I have had in St. Augustine. We love just plain cheese sprinkled with hot pepper flakes, grated Parmesan and sometimes a little oregano. It is a thin crust pizza, with a light delicate red sauce.
On Tuesday night, it's by one large get the second half off. we don't do that because there is only two of us but it is a great deal for a family.  We almost always go for happy hour.  They do $2.00 select draft beers and four dollar  glasses of wine during happy hour .
Napoli serves a great pizza at a great price.  Last night, we had a large pizza three beers and a delicious cannoli, all for $23.00.
Now that is Delizioso!
Napoli Pizza
6149 A1A S Saint Augustine, FL 32080-  904-471-2981