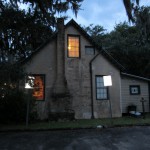 We have lots of friends and family that visit us in St. Augustine. We basically live  like tourists at least one week a month. We go on lots of tours, we visit lots of attractions and do a lot of eating and drinking when we have guests in town. We are always trying new things  to find the best experiences to share with our guests and because we love to have fun.
Next month, I have a friend coming in who likes ghost tours, so I wanted to try the "Spirits with Spirits" Paranormal Pub Crawl Tour.  St. Augustine Historic Walking Tours does this particular tour. Some of the ghost tours in St. Augustine can be a little hokey if you're not into this type of thing, but this one looked different.
This turned out to be a really fun tour. It is a combination of a pub crawl and a ghost tour.  The tour started  at 8:00pm and ended at 10:30 pm. You start out meeting your tour guide at a specific pub in historic downtown where they greet you with a beer. (I like this tour already)
Our tour guide's name was Kev. He has a history of doing paranormal investigations in many of the historic homes and businesses in St. Augustine. He is very knowledgeable, licensed, friendly and fun. We ended up having a blast with him. One of the great things about this tour is that you get to learn the history behind the hauntings of these particular pubs. We started out at The Prince of Wales on Cuna Street, which is a great place to grab a pint on the porch. It also has one of the most photographed windows in St. Augustine on it's second floor . Kev showed us some pretty spooky pictures on his phone taken in that window. We then proceeded to the Taberna  del Caballo on St. George Street at the Colonial Quarter. I ordered a glass of their red sangria and it was absolutely fantastic. I will definitely go back there to have it again. We had never been in there before and that was one of the things I loved about this tour ….getting to try a few new places. This was the spot we saw the most activity on our EMF meters. It also had the most perfect atmosphere for paranormal activity. Picture this, you are in a very dark, 18th-century candlelit Taberna that was built over a battlefield listening to ghost stories.
Then we were off to Stogies, a cigar bar in downtown that we had never tried before. We grabbed a beer, went upstairs and Kev told us all the history behind this haunting. Our EMF meter also lit up like crazy in here.  Kev pulled out a few of his other tools he uses in paranormal investigations  to find some more activity. The night was flying by and we were off to our last stop.
I love how unique this tour was. It was small enough that we got to know the people we were with and share a lot of laughs. It was casual and relaxed so we could ask the tour guide questions and he could interact with us on a one-on-one basis. It was very informative and I loved learning the history of the hauntings. We were able to stroll through historic downtown on a beautiful summer evening while our tour guide helped us discover some new "HAUNTS."
I have heard from other locals that all of St. Augustine Historic Walking Tours are really fun. The next tour I want to take with them is the Pirate Pub Crawl. That is supposed to be fantastic. They also do a food tour, a historic pub crawl and a photography tour. I'll keep you posted.
BOO!
Saint Augustine Historic Walking Tours
PH: 904-392-7137