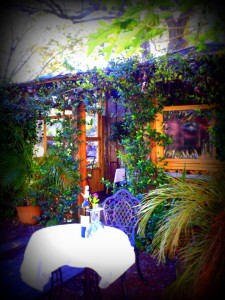 St. Augustine Historic Walking Tours is one of the tour companies we recommend the most. They never cease to amaze  and they always surprise me by bringing me somewhere I have never been before. I recently went on their food tour and once again I was pleasantly surprised.
I absolutely loved this Tour!!!!
Why did I love it you ask?  Well, first of all, there's the food.  Who doesn't love food?  Next, there was my tour guide Mia. Mia is an extremely knowledgeable tour guide in St. Augustine, but what I love about her is that she can make anyone feel like you've known her forever. She just puts you at ease right away, making you feel like you're out to dinner with an old friend.
 As locals we all too often get stuck in our ruts. I know I do, and that's why I love these tours. They take you to new places and  open you up to new food that you wouldn't normally order.  They show you St. Augustine through a new set of eyes.  These tours should be called "food adventures".
 Our group started off meeting each other at the Gifted Cork. I had never been  here before, but I have since become a regular. This wonderful little store has a great selection of wines from all over the world and an assortment of  unique gifts.   After our group was introduced to each other we were off.
We Walked down the street a short way listening to Mia's mini history lesson when she walked us into The Spice & Tea Exchange. I have been here several times before and have always loved this place.  This particular day was a whole new experience for me on the food tour.  The owners were waiting for us with samples of herbal iced tea and delicious salts and spices from all over the world.  We began trying the different flavors of the sea salts on celery sticks. We also tried some different spice mixtures that they mix in-house. WOW!  Now this is the way to do it.    After trying such a great variety I was able to make some purchases, not only for myself but for some family I was visiting the following week.  I ended up not only buying spices and salts, but a delicious cinnamon  plum tea that is perfect for the fall season.
Next we were off to The Gifted Gourmet which  recently opened on Spanish Street.  This was my first time into this unique and fun store. Here we got to taste some delicious cheeses and gourmet coffee too. They have such a unique variety of cheese here that I must confess, I went back to try a brand called the Drunken Goat.  YUM!!!  I had never done a cheese tasting before and this was quite a treat.  
 We moseyed down the street listening to Mia tell us more about St. Augustine's rich history.  This was our first real stop on the food tour. I won't tell you everything about this stop because I want to leave some surprises, but if you come from across the pond, this is one you will truly love.  At each of our stops on the food tour Mia would give us a history lesson pertaining to how the food relates to Saint Augustine.  How cool is that? I must say that living here and owning  the Locals' Guide to Saint Augustine, there  was a lot I didn't know. I learn so much on these tours. St. Augustine Historic Walking Tours prides themselves on the fact that they only tell "real history."
 Our second stop was to one of my favorite places to have lunch in St. Augustine, La Pentola. I have not tried dinner here yet  but the lunches I've had here are fantastic. . The problem is I always order the same thing.  This is why I love the food tour. I get to try something new. Oh my God, this place never disappoints me.  Here our group tried the Ravioli which is made with mozzarella cheese,  a sherry cream sauce, sweet peas, sun-dried tomatoes and  shiitake mushrooms. This came out with  a crusty bread that was to die for.  There was not a drop of sauce left on the dish as we all mopped it up  with that delicious  bread. But that wasn't all we had here. We also had Camarones Al Jillio-  a delicious sautéed shrimp in  garlic, olive oil, red pepper flakes and herbs. There was a lot of bread dipping going on here as well. This was very relaxing, sitting in the beautiful courtyard, listening to our history lessons with Mia and all getting to know each other  on a beautiful afternoon.
 I also should mention that you can pair this food tour with wine tastings as well for a nominal fee.  Nobody in my group did, but I think it would be a really nice thing to do next time. 
 Now at this point you may be asking yourself how could she possibly eat this much? Well she can and you can too, trust me.
 We also stopped at a really fun spot I had never been into on St. George Street, Vino Del Grotto. Here tried all types of wines made with fruits grown here in Florida. . They also have some fantastic balsamic vinegars.   These are what I call fun wines. I actually bought two bottles to bring with me up North to visit some family. I picked up the orange flavored wine and the sangria called Hurricane. This is a really fun wine to taste in a group.  It is made with five different fruits and with each sip you get a slightly different flavor. It starts with passion fruit on your first sip  and ends with watermelon on your last sip. This turned out to be a fun and unique souvenir for my family. 
 At our next stop we were treated to  delicious homemade chips and  organic salsa along with a delicious authentic homemade Guacamole. I thought this was it, but then they brought out something I had never tried before, Molletes. Wow was this good.  They take fresh bread, cut it in half, spread it with pinto beans then  cover it with Mexican cheese and bake it until it's melted. It is served with fresh pico de gallo.  Delicious!
As we strolled around town learning more history from Mia, she took us into a few other places I had never been to that offered up some sweet treats. Of course we got to sample everything and it was all fantastic. I don't usually eat fudge but I tried it at a few different stops that day.  It left me asking myself why the heck don't I eat fudge? Fudge is incredible and it comes in so many great flavors.  I am hoping Santa puts some in my stocking this year.
 I have to tell you about my  last stop, The Gourmet Hut.  This may be one of St. Augustine's best-kept secrets and they are pet friendly too. Mia explained to us that the kitchen is run by a variety of Chefs. The owner invites some of St. Augustine's best chefs to cook in the kitchen.  The day I was there was extraordinary.  The chef came out to greet us and explained what would be on the menu for the day. The first thing we were served was a homemade  black bean hummus with fresh corn chips and a variety of olives. I love hummus and this was so unique in flavor I can't even give it due credit with words. Next up was a fabulous salad made with spring greens, cantaloupe, mandarin orange slices, chicken and a delicious mango vinaigrette. This could get anyone to eat salad. It was truly scrumptious. And then just when you couldn't ask for more, they served up a homemade walnut fudge brownie with homemade pumpkin ice cream. Mia laughed and said this wasn't even our final dessert.  Our next stop we were to pick out a dessert of our choice and get it to go.   Really? More?
This turned out to be a really fun day  with a lot of new surprises for me.  Not only food, but different places I have never been to  in St. Augustine.  I loved this tour!    Every place they picked out for us was top-notch.   The depth of knowledge that Mia had for St. Augustine's history was very impressive to say the least. She knows her stuff and so do all of her tour guides as I've been on several of their other tours such as  "Spirits with Spirits"  and the "Pirate Tour."
 I think if I was visiting St. Augustine as a tourist this would be a great way to just see what kind of restaurants the city has to offer. The tour guides can also answer any questions you have about other spots too. If you came out on one of these tours early enough in your trip, I think it would really add to your experience here and help you pick out some great places to eat and drink.  Most every place we visited offered some discount to use if we came back.  If you're a local it opens you up to trying new places. This would be fun to do with out of town guests too.I'm so glad I went. I found some great new places to eat and also found some really unique souvenirs to bring to my family too. I got some fun wines, all types of sea salts & great teas, even some fudge.
I had a great time!
Bon appetit!
Mangia!
Comer!
 St Augustine Historic Walking Tours, LLC
904.392.7137