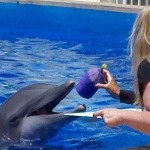 One of the most unique and educational attractions St. Augustine has to offer is Marineland Dolphin Adventure. There are a few places in the US where you get to interact with dolphins. They offer several programs to choose from to fit almost any budget.       General admission guests are able to view the dolphins through 6 x 10 ft acrylic windows as they swim, play and interact with guests in other programs. Admission fees are: $9.95 for adults ages 13 and above, $5.95 for children (ages 3-12), $8.95 for seniors (60+) I have personally experienced the Dolphin Designs Program and the Touch and Feed. I received the Dolphin Designs program as a birthday gift one year.
As a dolphin lover, this experience BLEW me out of the water.
You get to interact with the dolphin, with a canvas and paints and with your help, he creates your beautiful masterpiece.
You hold the canvas and the dolphin
holds the paint brush in her mouth
.      I have swam with dolphins before in the Dominican Republic and it was a wonderful adventure. However this is something you have to do if you love dolphins and  it is a completely different interaction. You  must be at least five years old to participate in this program. The cost is $90 per person and I highly suggest making reservations as this program sells out quickly. The experience is about 15 minutes long with the dolphin, about a half hour total, including picking out your paint colors and the instructions with your trainer. Of course you get to bring your picture home too. My dolphin's name was Dazzle and here is the picture we painted together.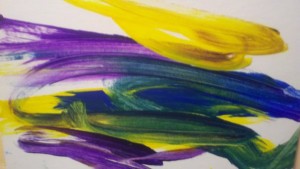 The touch and feed program is about five minutes long.
You or your child will get to feed the dolphin some fish and pet him after he introduces himself to you.
You must be three years old or older to participate in  this program. The cost is $29 per person. You do get wet during all of these programs so wear a bathing suit or dress accordingly.     So far these are the only programs I have participated in.  I can't vouch for the Immersion, the Discover Dolphins or the Trainer  for a day prgrams. I do want to try these  sometime in the near future and update this review. All in all, I would have to say that
if you or your child loves dolphins you really should stop in at Marineland.
If you just do the general admission, the viewing area is small enough that you can really see what's going on with the other programs and the
huge glass windows give you a great view of the dolphins playing below the water
. Marineland is located right on the beach so you have beach access and gorgeous views while you're interacting with dolphins. Marineland Dolphin Adventure 9600 Oceanshore Blvd.
St. Augustine, FL 32080
Phone: 904-471-1111 or 877-933-3402