Salt Life is now open for lunch and dinner. We will update our information and reviews as we try new food items.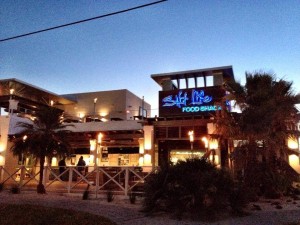 The new Salt Life Food Shack in St Augustine Beach, Florida is  "BEACHY KEEN."
St. Augustine has been waiting for this restaurant to open for a very long time and for good reason. The food is beyond fantastic! The location across the street from St. Augustine Beach Pier doesn't hurt either, nor do the great prices and fabulous views. From the roof top deck you have the best of both worlds; sunset on one side and the Atlantic ocean on the other.
Now that I have had the grand tour, I can see why they took a little longer to open. Perfection! The place is perfect. The decor is the signature Salt Life colors of Turquoise & watery blues mixed with a lot of Teak colored wood. It has Beach written all over it with a casual, relaxed, resort like feel. Salt Life is the perfect place to "Eat, Drink and Be Salty." Read More→